For the latest information on COVID-19 travel restrictions in Queensland, click here.
Robina
Gold Coast Suburb Profile
Robina is a masterplanned residential community that has been growing at an exponential rate for the last two decades. There is everything one could ever need in Robina - good schools and the private Bond University, wonderful shopping, parks, hospital, bike and walk trails and lakes. It's also a stones throw away from the popular Burleigh Beach.
There are so many new developments taking place offering luxury for singles, families, retirees and students at affordable prices. Popping up all over the place are high rise residential apartments, villas, townhouses and the odd stand alone house. Robina's property developers have been trumpeting it as the new centre of the Gold Coast for over a decade, but now, finally, it looks like they're almost there.
With its 2.5 billion dollar Robina Town Centre shopping centre, train station with direct link to Brisbane, Bond University, Varsity Lakes IT hub and now a brand new football stadium, locals have easy access to everything. 
Robina's history doesn't extend much past the late 1980s when it was still a floodplain/swamp waiting to be developed. Its central location and proximity to both beaches and the Pacific Highway made it a natural spot for a massive urban development, but it took until the late 1990s (or perhaps it was the building of Bond University) for the landscape to be completely re-shaped from a swamp into a gently undulating lakeside business and residential centre.
Southport's location on the Broadwater and its historical buildings, government tennants, courthouse and commerce facilities still make it the official central business district of the Gold Coast, but Robina's carefully planned town centre, high profile multi-national tennants and infrastructure may very well help it steal the title in years to come.
Robina Education
Robina is home to Australia's only private, independently funded university - Bond University.
Robina State
Varsity College
Merrimac
Miami
St Vincent's Catholic
Caningeraba
All Saint's Anglican School
Somerset
King's Christian College
St Michael's
Sporting Facilities
Cbus Super Stadium 
A premier stadium lcoated next door to the Robina train station, featuring Titans home games during the NRL season. Visit the 
website
 to see what events are on while you're in town.
Address: 
Centreline Place, Robina
Website: 
www.cbussuperstadium.com.au
Glades Golf Club
One of Australia's most prestigious resort golf courses designed by Aussie golfing legend Greg Norman, the course offers a challenging round with beautiful landscaped surrounds.
Address: 1 Glades Dr, Robina
Website: www.glades.com.au
Robina Medical Facilities
St Vincent's Hospital offers numerous facilities and surgeries. The suburb is relatively close to Pindarra, Allamanda and The Gold Coast Hospital. There are also numerous doctors clinics in the area.
Robina Shopping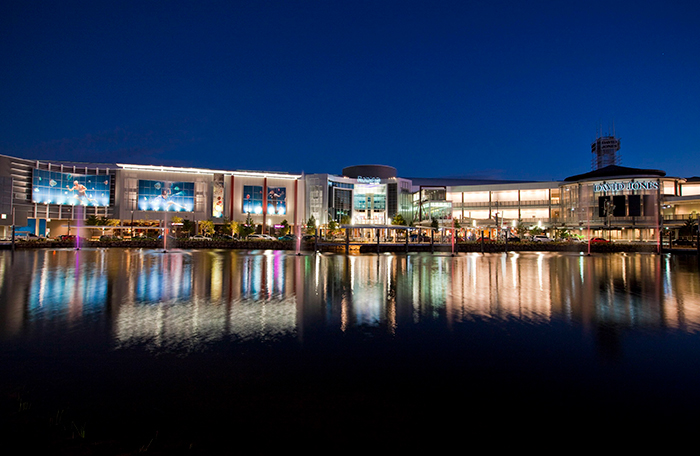 Robina is home to Robina Town Centre. This shopping centre has recently undergone a major makeover and has an excellent range of retail stores, specialty stores, cinemas, supermarkets and other services. There is also a new and huge food court that will satiate even the pickiest person.
Robina Village Centre is a great one stop shop for groceries, beauty shop, real estate, petrol and bottle shop - this is also where the Robina Tavern is located. There are also many other shopping destinations in the area including: Pacific Fair, Robina Quays, Q Super Centre and Christine Corner.
Robina Recreation
There is lots to do in Robina. There are numerous bikeways, parks and playgrounds which make for a great family day out. The lakes and riversfronts are excellent places to drop a line in and relax. Just watch out for the families of ducks which waddle about the area come Spring. 
There are some great cafes located on the river - wonderful for a casual lunch or drinks on Friday nights. There are also a few pubs in the area; Don's Tavern is Bond Universities own pub but there is also the Robina Tavern and the Dog and Parrot which are pretty popular as well.
Images courtesy Tourism & Events Queensland, Tourism Australia, Destination Gold Coast & Getty Images