For the latest information on COVID-19 travel restrictions in Queensland, click here.
South Stradbroke Island
Holiday Destination
Located a mere 200 metres across The Seaway from The Spit, South Stradbroke Island (or South Straddie as its known affectionately) is perfect for a day trip, holiday or even a quick surf. This sand island stretches down to the northern end of the Gold Coast, protecting the Broadwater from the Pacific Ocean.
It is a sand island and mostly inhabited by wallabies but you'll also find people too. There are some houses down the southern end which are tightly held but towards the north, Couran Cove, the once eco-tourist resort now holiday resort has plenty of accommodation options.
North and South Currigee and Tipplers both have campgrounds which are totally surrounded by native bushland. It is the best way to get back to the simpler things in life and enjoy your natural surroundings.
Water taxis operate from lots of points from the mainland and transport people daily or you can do what the local surfers do and paddle across The Seaway – if you dare….
Things to do on South Stradbroke Island
Get an insight into local history and oyster farming and visit Dux Hut. Built in 1930 by oyster bank license holder, Augie Dux who was farming in Tipplers Passage, this hut is a great example of early improvised camp architecture. It is also the same site where the pioneer of oyster farming in the 1800s lived, Henry Tippler for whom the channel is named after.
South Straddie is known for having one of the best, if not most consistent breaks on the coast.  Locals refer to it as TOS (The Other Side) as for years many made the paddle from The Spit to Porpoise Point on Straddie – braving wayward jet skis, yachts and the odd shark. Moondarewa Bay is where the surf pumps but just be aware of your surroundings and pay some respect to the locals.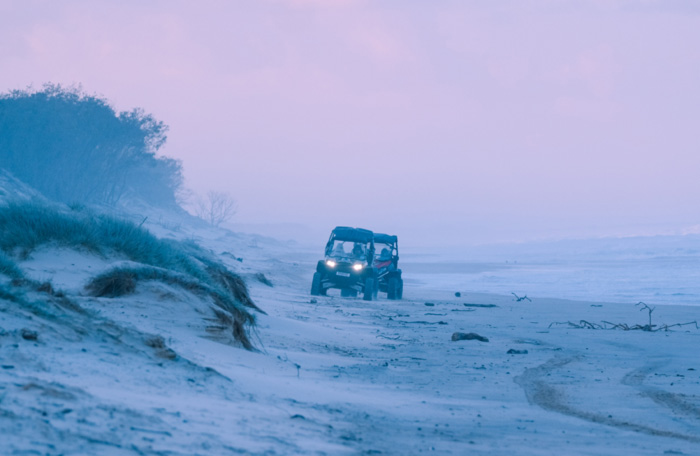 Bushwalking around South Straddie is an amazing experience as you are totally isolated – prepared not to run into another human. The scenery is diverse with sand dunes running down the length of the island, livistona rainforest, freshwater marshlands and melaleuca wetlands.  The island is only 2.5km wide so we recommend using the car-less main road to get your bearings.
While walking around the island, or perhaps from you own tent, keep an eye out for local wildlife. South Straddie is home to the only colony of Golden Wallabies and the agile or sandy wallaby also calls this island home. If you head to the Eastern/Beach side of the island in October, look out for migrating Humpback Whales! 
Shopping
If you're coming to South Stradbroke Island for a camping holiday, we recommend stocking up before you get here as there's not much in the way of shopping. You can get a few 'essentials' like snacks, ice and bait from the Kiosk at Tipplers Cafe but if you want to book your own meals then bring your own supplies. 
Dining
Tipplers Cafe is open 7 days a week and offers up breaky, lunch, dinner, coffee which you can enjoy dine-in on their waterside tables or takeaway to enjoy from your boat or camp site. Think fish'n'chips, burgers, steak sandwiches and pasta with a pretty extensive booze list. Choose to dine-in and you might end up lunching with a wallaby.
Couran Cove is home to two restaurants The Marilin Bar & Bistro and The Boardwalk Bar and Cafe. Contemporary cuisines, salad rolls, muffins and toasties - you'll be catered to breakfast through to evening with The Boardwalk opening up for cocktails from 5.30pm on Friday and Saturday nights. 
Main Events
South Straddie is usually a sleepy sort of place, however, on New Years Day the annual Currigee Cup is held down the southern Currigee end of the island. This nautical battle between residents has been running since 1965 and those families that started it are generally the same people that compete today.  There are races for many classes of boats, relays and awards for Best Dressed Boat and Crew and Best Spectator.
Nightlife
On Sundays, McLaren's Beach Bar's Island Sundays pumps out tunes to locals, boaties and heaps of people from the mainland. It's the perfect place to go after a week of camping with great food, bar service in an awesome atmoshphere and amazing location. Located at McLaren's Landing, you can kick back and dance away the night with the sand under your toes. 

Owls and wallabies call the island home and after dark is when they're both on the prowl. Make sure you keep your food stored safely as the odd loaf of bread has been known to vanish into the paws of a hungry wallaby.
How To Get There
South Straddie may be a little difficult to get to but once your here, it is is well worth the journey. A lot of surfers brave paddling across The Seaway but if you'd like to stay dry you can take your own boat, hire a boat, ferry or water taxi. Water Taxi's leave from Marina Mirage, Runaway Bay, Sanctuary Cove and Hope Island. There's also a seaplane that can land you just offshore! 
Images courtesy Tourism & Events Queensland, Tourism Australia, Destination Gold Coast, Getty Images & McLaren's Beach Bar Facebook