Gold Coast Sport
The Gold Coast is home to over 300 sports clubs, as well as training facilities for the Australian Institute of Sport, over 14 major professional sporting complexes, 8 aquatic centres, 50+ golf courses, several marinas, football stadiums, enough lawn bowling greens to host 50 Commonwealth Games, equestrian centres, polo fields, rowing facilities, an ice skating rink, and pretty much every other sporting facility and organisation known to people-kind, and don't forget the beach, which is undoubtedly the Gold Coast's biggest sporting field.
We also have a number of Indoor and Outdoor Stadiums that host major events and also host sports like basketball, gynastics, futsal, netball and even roller derby. These will host many different sports during the Gold Coast 2018 Commonwealth Games. Most major suburbs will also be home to rugby fields, AFL and soccer ovals, tennis courts, cricket pitches and parks offering a variety of sports.
Here's a directory of Gold Coast sporting organisations and clubs. Visit the websites for information on where to sign up for, or watch games. If you know of a Gold Coast sporting club that isn't listed, please let us know.
Gold Coast Sporting Organisations & Clubs
Get Active Gold Coast
A great website that lists hundreds of activities for kids, adults, seniors and groups. Get Active Gold Coast also supports healthy eating by providing recipes, dieting tips and healthy eating advice for all age groups, and provides a handy activity/sport finder.
Get Active is a Gold Coast Physical Activity Alliance (GCPAA) initiative - aiming to increase physical activity participation on the Gold Coast.
Major Sporting Event Venues
There are a number of major sporting event venues dotted throughout the Gold Coast. These host major events, training camps and the Gold Coast 2018 Commonwealth Games. If you'd like to contact these venues you can call 07 5581 1548 or email on [email protected]
Cbus Super Stadium
A premier stadium located next door to the Robina train station, featuring Titans home games during the NRL season. Visit the website to see what events are on while you're in town.
Gold Coast Sports Precinct
There are 9 community fields and 2 elite fields located here and over 1000 carparks to support them. This is the home of the Gold Coast AFL team, The Suns.
Carrara Indoor Sports Stadium
Once home to the Gold Coast Rollers, this stadium has undergone a recent refurbishment to upgrade seating, technology and design. There are four multi-use courts with sprung wooden floors as well as change rooms and kiosk.
Gold Coast Sports and Leisure Centre
Opened in 2017, this multi-purpose community facility has 15 multi-use sports courts, change rooms, function rooms, green area and plaza. It will support world-class competition and training facilities for badminton, weightlifting and wrestling campaigns during the Gold Coast 2018 Commonwealth Games. 
Coomera Indoor Sports Centre
Designed to world-class standards, the Coomera Indoor Sports Centre at the Coomera Sports Park is a highly versatile and important piece of infrastructure in this growth area. The facility caters to both community and elite levels with 8 multi-use courts, gymnastics arena, change rooms, amenities and plenty of seating and parking for spectators.
Gold Coast Cycle Centre
This facility regularly hosts regional, state and national cycling events and will be the start and finish location of the mountain bike events during the Gold Coast 2018 Commonwealth Games. There is an outdoor velodrome with viewing platform, off-road circuits, clubhouse and amenities. 
Runaway Bay Indoor Stadium
The Runaway Bay Indoor Stadium is a multipurpose facility with 4 mixed use, sprung wooden floor courts that are ideal for indoor soccer, basketball and even roller derby. There's permanent grandstand seating, guest amenities, kiosk and change rooms.
Aquatic Centres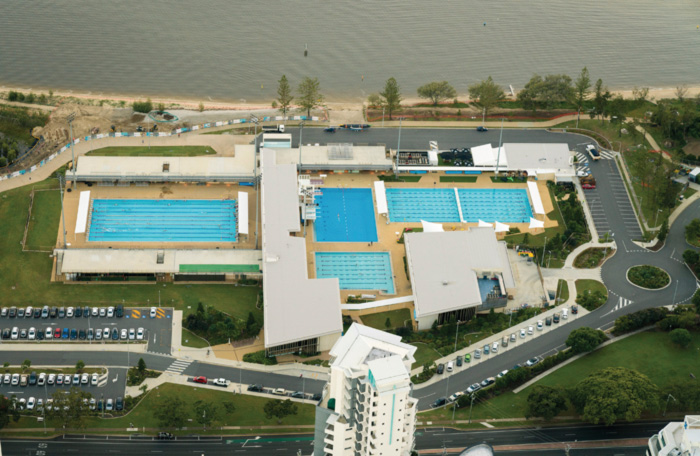 The City of Gold Coast operate 8 aquatic centres across teh city with pools of various sizes and facilities. The pools cater to squads, school swimming carnivals, high diving, synchronised swimming and more at all levels and abilities. The Gold Coast Aquatic Centre in Southport is an outstanding facility and we'll be showing it off as it is the swimming and diving facility for the Gold Coast 2018 commonwealth Games. 
Sporting Organisations
Athletics
Australian Rules Football
Baseball
Basketball
Cricket
Horse Racing
Lawn Bowls
Netball
Rugby League
Rugby Union
Soccer
Surf Lifesaving
Swimming
Tennis
VolleyBall
Other Sporting Clubs & Recreational Activities
AM Sports
Berth 23 Mariners Cove Sea World Drv Main Beach
Phone: 07 5571 1004
Aussie Bobs Watersports
Berth C67 Marina's Cove Marina Seaworld Drv Main Beach
Phone: 07 5591 7577
Gold Coast Touch Association
201 Queen Street Southport
Phone: 07 5532 1419

Images courtesy Tourism & Events Queensland, Tourism Australia, Destination Gold Coast & Getty Images