For the latest information on COVID-19 travel restrictions in Queensland, click here.
The Gold Coast Beaches
Everything you need to know
The Gold Coast has more than 70km of fantastic beaches and Surfers Paradise is one of the most iconic along this huge stretch of sand. However, there are plenty of beaches that are much prettier and have better swells if you care to explore the area.
Getting to a Gold Coast beach is pretty easy - head east and you'll get wet - keep heading east and you'll end up in Chile. There's a lot of ocean on the Gold Coast coastline and there's not much between South America and the shore, so it can get pretty rough, especially in Cyclone season.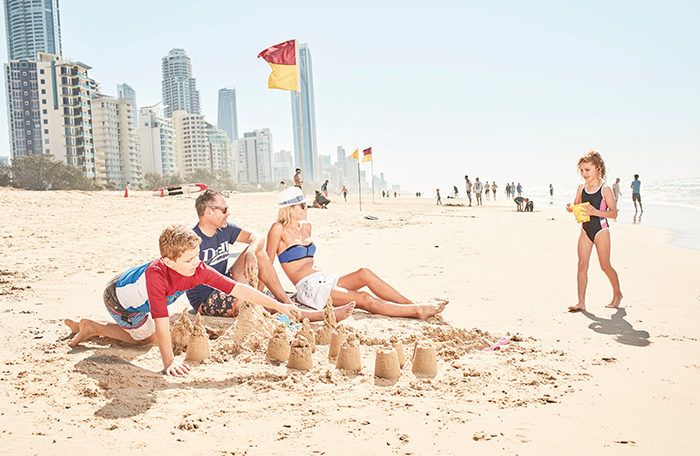 Luckily professional lifeguards patrol the main beaches all year round and during the summer months the coverage is increased by volunteer surf lifesavers. There's also shark nets along most of the shore so you won't come in contact with anything too nasty.
There is one golden rule everyone should follow when swimming on Gold Coast beaches: SWIM BETWEEN THE FLAGS.
Every morning the lifesavers check out the weather and surf conditions and put up a couple of flags in the safest spot for people to swim. Beaches may close due to heavy rips or jellyfish and blue bottle stingers in the water - however, this doesn't happen that often.
If you stay in between the flags you'll be in the safest spot on that particular section of the beach and you'll be under the watchful eye of a Gold Coast lifesaver - our lifesavers are the best in the world.
The only exception to swimming between the flags is if you have a surfboard - surfboards are not allowed between the flags because they have pointy bits at both ends which fit nicely into human eye sockets.
Gold Coast Beach Information
Images courtesy Tourism & Events Queensland, Tourism Australia, Destination Gold Coast & Getty Images