For the latest information on COVID-19 travel restrictions in Queensland, click here.
Southern Gold Coast
Explore This Destination
The southern Gold Coast area is a beautiful place for tourists and locals alike and brings the golden beaches and the lush, green hinterland together. This area offers the benefits of urban facilities with great surfing on your doorstep and native bushland at your back door with plenty of shopping, dinning and entertainment to keep you constantly on your sandy toes. 
Resting on the NSW border, the Southern Gold Coast encompasses the village townships of Coolangatta, Currumbin, Palm Beach, Kirra, Bilinga and Tweed. Enjoy the laidback lifestyle that really showcases what the Gold Coast is all about. 
Things to do in Southern Gold Coast
Natural Attractions
The beaches in this area are known to locals and even international surfers for their clear waters and great breaks. Rainbow Bay, Snapper Rocks and Duranbah Beach (that's D'bah to the locals) are all world-class surf breaks which is probably why they see the most action. All the beaches along the southern Gold Coast are perfect for swimming, playing in the sand or even just laying back and soaking up the sun with family favourites including Greenmount and Palm Beach. Keen to learn to surf? Book a 2 hour surfing lesson at Kirra Beach. 
Point Danger sits high on a peak overlooking Duranbah Beach in Bilinga and gives viewers the chance to see dolphins out at sea while planting one foot in QLD and the other in NSW. Visit the Centaur Memorial which remembers the sinking of the Aussie hospital ship, Centaur, by Japanese submarines during World War 2. Take The Walk of Remembrance to remember other ships lost to German and Japanese action during the war. 
The Currumbin Rock Pools are a bit of a local secret (shhh!) and are located about 15 minutes from the beach. The pools are the perfect spot for a relaxing day out while you picnic, swing from the rope swings and lounge about on the rocks, all while enjoying the refreshing waters of the rock pools. Other great spots include Currumbin Creek and The Alley which are known their calm waters which are ideal for stand up paddle boarding and kayaking.
Down the southern end of the Gold Coast you can walk down Kirra Beach, don your scuba tanks and swim out a few hundred metres to the kelp covered rocky outcrops. Palm Beach Reef Dive Site is another top spot and is home to stingrays, Wobbegongs, parrot fish and a selection of sharks.
Tourist Attractions
Currumbin Wildlife Sanctuary has long been a favourite destination for visitors and locals. Cuddle a koala, walk with dingos, take a Segway Safari or test your mettle on the Tree Top Challenge, there's so much to see and do! You can book tickets for the following: 
Taking off from the Gold Coast Airport, Gold Coast Skydive is the only tandem skydive operation on the Gold Coast. Leap out of the plane and enjoy a proper bird's eye view of the coast before softly landing on Kirra Beach. 
Superbee Honeyworld in Currumbin takes visitors on a wonderous adventure into the life of bees. Watch as professional beekeepers take you from flower to bee to honey and then taste test their wares. 
Take a whale watching boat trip with cruises running daily from June to November. Humpback whales migrate past this piece of coast line every year and those that lead the tours know just where to find them. They're so sure of this in fact that most tour groups offer a 100% guarantee, promising a full refund if you don't see any whales.
Take a walk on the wild side and get close to some native Australian and exotic wildlife at Currumbin Wildlife Sanctuary. View stacks of interactive displays, wide-open enclosures while walking through the lush rainforest and see all of your favourite animals - cuddle a koala, get up close to crocodiles, hand feed the kangaroos or Rainbow Lorrikeets or for the adrenaline junkies go through the Adventure Parc High Ropes Course.
Location: 28 Tomewin St, Currumbin
Buy Tickets
Choose between a half day or full day surfing adventure and learn how to paddle out, stand up and catch a wave. This tour includes a half-hour yoga lesson to help stretch and relax your muscles before you jump in plus a professional photo package for no extra charge. If you choose the full day tour you also get a delicious lunch and snacks throughout the day plus a tour of Fingal Head Lighthouse. An awesome day out.
Book Online
Each year majestic Humpback Whales migrate from the Antarctic to the warmer waters off the coast of Queensland. Every year around 1200 whales make the 5000km journey - the first ones arriving on the Gold Coast in early June. There are plenty of options when it comes to seeing these majestic creatures on their migration, with tours ranging from a few hours to a whole day, with the typical season lasting from June to October.
Learn More
Shopping
The Strand in Coolangatta has literally everything you'll need for an uber stylish and delicious holiday. There's an eclectic mix of fashion retailers, accessories, homewares and they also cover all your day to day needs with Woolworths, Aldi, free range Butcher and chemist. Located in this beachside complex is a whole host of restaurants and places to grab a quick bite like Beach Burrito, Thanh Binh Bamboo and the Gold Coast's first Gelato Messina. 

If you're in the area you should pop into 20th Century Antiques and Collectibles for a trip down memory lane. Located in the heart of Cooly, this ginormous shop is full of quirky bits of memorabilia, Hot Rod gear, vintage fashions and retro homewares - be prepared to spend a few hours here!

People take their markets very seriously down the Southern end of the Gold Coast. With good reason too as there are so many talented local designers and producers who sell their wares at the Coolangatta Markets (every second and fourth Sunday) while shoppers enjoy food delights and tunes. The Palm Beach-Currumbin Farmers Market open every Saturday morning rain, hail or shine with growers and artisans from the area rolling up at 6.30am to dedicated shoppers. Once you buy fruit and veg from here, you'll never want to go anywhere else!

There's lots of smaller shopping strips, usually located close to the beach, so the best way to discover these hidden gems is to walk around the area. You never know what you'll find! 
Dining
With over 120 different restaurants and cafes in the southern Gold Coast you have an abundance of dining choice. You're bound to find something to please your culinary tastes while still being able to enjoy either some epic coastal views. If in doubt, head to one of the surf clubs for a great feed! 
The Surf Club Coolangatta is renowned for their excellent friendly service and great value. Their relaxed surrounds, delicious food and coffee have won a number of hospitality awards over the years. Perhaps the best feature is that all profits go to the Coolangatta Surf Club so the life savers have the equipment and training necessary to save lives.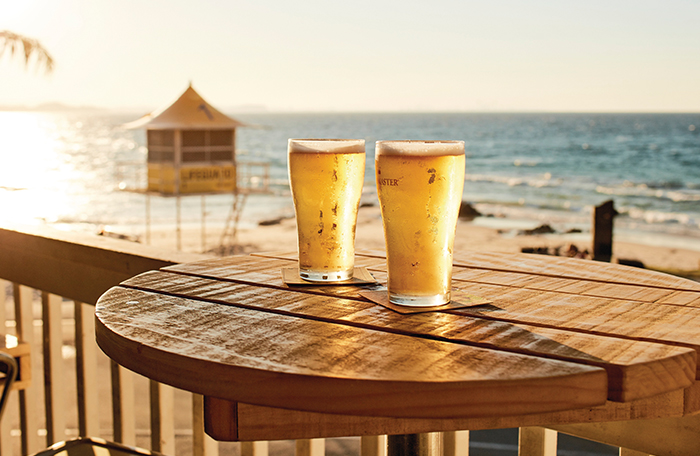 Every Friday and Saturday night, Miami Marketta open up the gates into a food wonderland. Stroll through their open air laneway and decide what Street Food stall you're going to eat at. There's communal tables, acoustic musicians, bands, a designated dessert hall, locally brewed beer and great food from a huge variety of vendors. 
Like a view with your coffee? Cafe Dbar is nestled on Point Danger and offers diners a beautiful outlook as they tuck into healthy breakfasts and seasonal share platters. Overlooking Currumbin Beach, the Elephant Rock Cafe has been serving a view with a side of breakfast/lunch/dinner since 1990.
Craving American diner food but your date is in the mood for Mexican? You can choose from 5 different menus when you dine at The Collective in Palm Beach. Located in the old post office, this restaurant is unlike any dining experience we've ever had. Why not have your Mac n Cheese with a side of San Choy Bao! There's also a bar and a rooftop bar!
Main Events
Cooly Rocks On is a 1950s and 60s inspired festival held in the border towns of Coolangatta and Tweed Heads each year in June. The festival goes for more than a week with outdoor stages, rockabilly and swing dancing in the streets, hot rod car shows and market stalls. Every year this festival grows and brings more elements to the celebrations.
Every March, the world's best surfers converge on the famous Snapper Rocks in Coolangatta for the Quicksilver Pro and Roxy Pro Surf Competition. People flock to watch them in action and to soak up the festival atmosphere with live music, art and plenty of fun times. 
In 1984 writer Peter Schrek came up with the idea of movie where the characters run a race from Surfers Paradise to Coolangatta. That film led to the establishment of the iron man race, The Coolangatta Gold, or The Coates Hire Coolangatta Gold as we know it today. Run in October the race has been a highlight on the sporting calendar on the Gold Coast for over 30 years and is recognised as one of the most challenging endurances surf races.   
Every September, over 50 national and internationally renowned artists showcase their works on Currumbin Beach in a free public exhibition at SWELL Sculpture Festival. The festival is good for the Gold Coast's soul as culture comes to the beach in the form of installations, master classes, children's art activities and workshops. Another cultural event is the annual Bleach* Festival which started off primarily in Southern Gold Coast and has now spread throughout the entire city. The festival celebrates the vibrant art community on the Gold Coast bringing together musicians, filmmakers, actors, sport and all manner of performing arts. 
The Anzac Day Dawn Service at Currumbin Beach, overlooking Elephant Rock,is one of the most supported services in Australia with more than 10,000 people making the early rise. The Currumbin RSL host the event but it is truly supported by the community of the Gold Coast with many people helping to honour our veterans.
Nightlife
Coolangatta is home to one of Australia's best live music venues, The Coolangatta Hotel or The Cooly Hotel to those who know better. Sway and sweat to beats in The Bandroom, enjoy a beer overlooking the famous Snapper Rocks break and soak up some of that alcohol at Crave Restaurant. 

Balter HQ (the headquarters for Mick Fanning's beer) has an open door policy so you can tour the brewery, sample the brews, enjoy local musicians and a whole host of food vans from all over the coast. There's a relaxed vibe here unlike anywhere else and you know you're definitely welcome in your double pluggers.

Lester and Earl in Palm Beach has 12 craft beers on tap which you can guzzle while sitting on their huge verandah overlooking the beach. The decor may be rustic but their spirits are premium and there's a range of creative cocktails to keep you busy. The food is American BBQ and no one will bat an eyelid if you lick sauce off your fingers. 

Tiki bar come restaurant, Tupe-Aloha promises that it's always a holiday when you're there. Delicious cocktails complete with umbrellas don the menu and stunning artwork fill the walls, listen to live music and go on a tour of the Pacific Rim. 
Baskk in Kirra is where long lunches are welcomed with diners welcome to stay into the night. With a solid wine and cocktail list and $7 schooners of Balter there is no better way to while away the evening than on one of their comfortable lounges with a DJ playing into the night. 

Located on the QLD/NSW border, Twin Towns has been a favourite destination for locals wanting to enjoy a meal and a drink. With live entertainment on almost every night and ample gaming rooms, there's something to interest everyone here. 

Komune Beach Club is open from Friday to Sunday and it's where the cool kids go to drink, dance and be seen. With live music every weekend, flowing cocktails and gorgeous people a plenty, it's a unique experience on the doorstep of Greenmout Beach. 

Images courtesy Tourism & Events Queensland, Tourism Australia, Destination Gold Coast, Getty Images, Elephant Rock Cafe website, Cooly Rocks On Festival Facebook, DK Photography Facebook