For the latest information on COVID-19 travel restrictions in Queensland, click here.
Gold Coast Cruises
Blessed with a few hundred kilometres of canals and rivers (446km to be precise), the Gold Coast's waterways are more than ten times longer than those of Venice.
The Nerang River is the main aquatic artery and if you've ever had the chance to follow its course past Surfers Paradise and into the Broadwater with the sun setting behind the Mountain tops, it's an experience you won't forget.
In fact, if you had a boat, a decent amount of fuel and the urge, you could travel from Surfers Paradise (and a few dozen other suburbs) right up through the Broadwater, into Moreton Bay, and into the Brisbane CBD without setting foot on land or the open sea. If you want to experience the Gold Coast from the water, a sightseeing cruise or fishing trip is a fantastic idea.
---
Gold Coast Sightseeing Cruises
Jet Boating Rides
After a boat ride with a little more action? Why not try the thrill of Jet Boating! There are a number of tour operators on the Gold Coast, take your pick below and book online! You can even combine a jet boat ride with another activity. 
Calling all adrenaline junkies, this activity is for you! Jet Boat Extreme departs from the heart of Surfers Paradise and is jam packed with fun, adventure, thrills and beautiful scenery. The twin jet powered 600hp turbo charged jets will give you 360 degree spins, power slides and amazing speeds through the Gold Coast Broadwater and Seaway. Slide along sandbanks and pristine beaches and be warned, you're going to get a little wet!
Book Online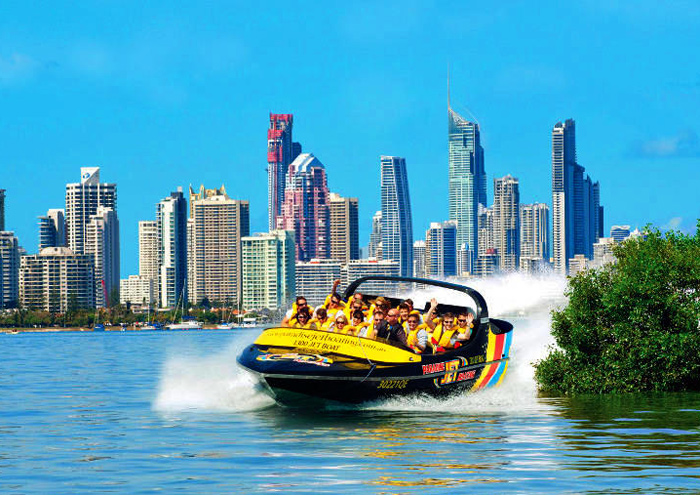 Enjoy an exciting 55 minute thrill ride with Paradise Jet Boating. Departing from Marina Mirage, the high powered 500hp engines will prpvide wicked spins, exciting fish tails and adrenaline pumping 360 degree spins through the Gold Coast Broadwater and Seaway.  There's never a dull moment on this tour! Get free return transfers from Surfers and Main Beach hotels aboard the unique 10 seater open air Super Jeep.
Book Online
This is Queensland's only off shore ocean jet boating experience! Combining great views with awesome thrills, Ocean Jet Boat is the ultimate extreme activity. Stay dry in the fully enclosed boat in an individual racing seat in air conditioned comfort as the 880 horsepower twin turbo engines will blast through the huge ocean waves reaching speeds of up to 90km per hour. Don't be surprised if you see some dolphins on this tour!
Book Online
Images courtesy Tourism & Events Queensland, Tourism Australia, Destination Gold Coast & Getty Images