For the latest information on COVID-19 travel restrictions in Queensland, click here.
Plan a day on the Gold Coast
There are plenty of things to do on the Gold Coast and obviously everyone has different tastes. But if you're struggling with all the exciting options the Coast has to offer and can't decide on what to do then maybe some of the following day plans can help you plan out your holiday.
These day plans are put together based on themes. There are non-stop party plans, relaxing tours of the magnificent scenery, shopping trips and active hikes through the Hinterland.
These are just some of our ideas of a perfect day on the coast, so have a browse and see if there's anything that catches your eye. You can follow them to the letter, swap some of the activities around or just use them as a starting point, the choice is all yours!
Relaxing on the Gold Coast
Start your morning with an easy, laid back breakfast at Paradox Coffee Roasters where the coffee is good and the eggs benny comes how you like it.

From here, hop in the car for a scenic morning drive up into the Gold Coast Hinterland. Head north along the Gold Coast Highway past the beaches where you can watch the yachts cruise and the seagulls glide until you get to the Pacific Highway Brisbane bound.

Take the exit to Mount Tamborine and enjoy the drive past lush acreage properties and through the quaint little Tamborine Village. You may want to spend some time looking around here as they have some lovely boutique stores and cafes.

There are also plenty of lookouts, short bushwalks and National Parks around here so don't rush through too quickly.
For lunch head on in to Mt Tamborine Vineyard and Winery on the 'Gallery Walk' of Long Road. You can't miss it, there's a large wire sculpture of a wine bottle atop the cellar door. Here you can enjoy a tasting of some of our Queensland wines before sitting down to a delicious gourmet lunch or even High Tea.

Once you've had your fill head back down the mountain to the Broadwater and walk along the foreshore. The waters here are clear and calm and the traffic isn't as heavy as some areas of the Gold Coast, so you can relax and either take a dip or sit on the sand to watch the boats cruise past for the afternoon.

For dinner take a walk along the water to Marina Mirage at Main Beach and perhaps take a ride on a gondola or a relaxing dinner cruise. From the luxury of your own private Gondola or table you can glide through the coastal waters and watch the Gold Coast lights define the skyline as the sun goes down. Dinner is served as you cruise along enjoying hot or cold seafood and other such selections.
---
Partying Down the Coast
For a day of thrills, kick things off with a morning of Go Karting at the indoor track in Nerang. You can have up to 15 racers on the 250 metre track and there are no age limits, so get a group together and rip it up for a morning of burnt rubber.  

Take a break at Saltwater Creek Hotel for a pub lunch in Salty's Sports Bar in Helensvale. Here you can kick back with a range of tap and imported beers, traditional pub menu and a game of pool for a few hours.

From here head in to Surfers Paradise Timezone for a game of indoor Laser Skirmish. You can play as a team or turn friend against friend as you inch your way around the 300 square metre maze, not to mention the hundreds of other arcade, driving, and ticket games. Timezone also boasts an 18 hole mini golf course, bumper cars and a number of simulation games.
Watch the sun go down as you enjoy a beer on the infamous balcony of the Surfers Paradise Beergarden. Follow that beer up with another one at one of the local surf clubs and get your fill of friend deliciousness in the form of a seafood basket or chicken parmagiana. 

After dinner is when the fun really starts. Take a walk down Orchid Avenue in Surfers and pick from any number of trendy nightclubs. Head to Sin City or Bedroom Lounge Bar for the big DJ events, Elswhere, Cocktails & Dreams, The Avenue, Melbas and many more. If the scene in Surfers isn't your cup of tea, you'll find a more sophisticated selection of clubs and bars a few minutes south in Broadbeach - try your luck at East, Platinum, Lil Sister and Love Nightlife to name a few.
A Day at the Beach
Whether you're surfing, boarding or swimming this day on the coast will suit you.

Start your morning at Snapper Rocks. It's easily considered one of the best surfing beaches in Australia which is why the Roxy Pro and Quicksilver Pro are held here every year. Plunging into the water with the first morning light is a great way to start a day on the Gold Coast.

When you start to get hungry for breakfast take a walk up towards Rainbow Bay. There are a number of bakeries and cafes that can do a simple breakfast bite, if you're out on a weekend though head to the Rainbow Bay Surf Club for a breakfast overlooking the bay.

Rainbow Bay as a beach manages to cater to everyone. Long, short and paddle boarders can all find an area of the break to suit them while swimmers can enjoy the relatively sheltered area closer to shore. There is plenty of sand to claim your patch of the beach for leaving your towel or having a rest.
For lunch take a short walk up to Marine Parade or Boundary St, Coolangatta to choose from a number of take away shops. Follow your nose for your choice of fish and chips, burgers, fresh sandwiches, kebabs and plenty more. 

Then walk up to Greenmount Beach to enjoy your meal in the shade of the pine trees on the foreshore.

From here you can spend the hotter part of the day sitting back from the shore in the shade or sunscreen up and head straight back out again.

Greenmount beach is also great for kicking a ball around, throwing a Frisbee and generally just fooling around in the sand.

Once the sun goes down there are plenty of restaurants and bars along this stretch of beaches that do dinner with night views of the ocean, good music and a chance to socialise with locals and other travellers alike. We particularly like winding down the hours to midnight at the Cooly Hotel which has live music most nights. 
Gold Coast Shopping Adventure
After receiving a many million dollar makeover, Pacific Fair Shopping Centre is the best place to shop on the Gold Coast. Home to over 400 stores to really immerse yourself in from Australian high end designers to overseas chains and local favourites. Once you've worked up an appetite, sit back and relax in the beautiful foodcourt and dine cafe style at one of communal tables.

For the afternoon take a drive out to Robina Town Centre for a real shopping experience (although you may need a whole day). 

Finish off the day at Marina Mirage and enjoy a glass of bubbles before you make your way around the creme de la creme of Gold Coast shopping. Afterwards, throw on your new frock or don your fancy threads and enjoy the restaurants on the water. 
---
Romantic Day at the Coast
For a romantic day on the Gold Coast nothing beats a hot air balloon ride and Champagne breakfast to set the mood. These packages include hotel transfer from your Gold Coast or Hinterland accommodation up to the launch site where you'll be taken for a gentle one hour float above the magnificent Gold Coast Hinterland as the sun rises.

After a soft landing you'll be transferred to O'Reilly's Canungra Valley Vineyard for a glass of champagne and freshly cooked breakfast in the historic surroundings of the homestead. When you're ready to leave the serenity of the vineyard you can be dropped off at theme parks, shopping centres or your original accommodation.

If you haven't already got a car organised get a rental now and head out for a coastal of hinterland drive. There are a number of scenic drives in the hinterland area but for a romantic day we suggest heading through Mudgeeraba up the green, windy roads to Springbrook Village. Take a walk through the quaint little shops, visit some lookouts and maybe purchase a picnic lunch to take with you.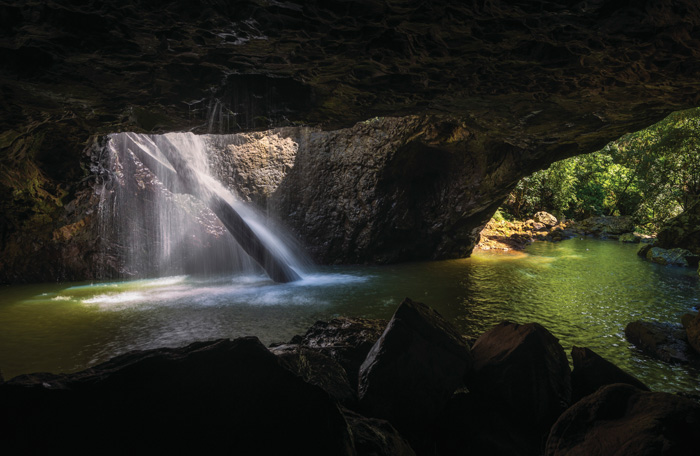 Jump back in the car and head down to the Numinbah Valley and Natural Arch where there's a short bush walk to the Natural Arch and waterfall. It's a beautiful spot to break out that picnic lunch and admire the view. Without being too suggestive this would be a rather memorable place to ask an important question…

Take your time driving back down to the Gold Coast and stop in at a few of the wineries on the way. Finish up at the Marina Mirage, a beautiful collection of shops and waterfront dining but also berthing points.

There are a number of dinner cruises that depart from Marina Mirage and serve sensational seafood while taking you on a slow cruise along the coast as the sun sets. Choose from a large, air conditioned luxury vessel, a smaller intimate boat or even a powered Gondola for a private cruise. The Gold Coast lights reflecting on the calm waters present a beautiful scene to end a romantic day on the coast.
If you're on holiday with the little ones there are quite a few family friendly activities that you can participate in too. Start your family day at the Currumbin Wildlife Sanctuary, where the kids can learn about Australia's native wildlife while still having a great time.

There are several animal shows throughout the day, many of which offer the chance to feed, pet and get photos with the animals. Don't worry if the kids are having trouble sitting still though, you can burn up some of their energy at the Green Challenge Adventure Parc.

The park is a high rope adventure course that includes 65 different obstacles and even a giant Tarzan swing and flying fox. If heights are a problem there is also the Segway Safaris for anyone aged 10 and up. The electric Segways allow you to scoot through the Forest Walk with a guide informing you about the habitat and wildlife.

For lunch head in to Outback Jack's in Coolangatta for a hearty Australian meal. The restaurant has clear views all the way up the beach, great Australian beef and a number of cheap and free kid's meal opportunities.
Once you've had your fill walk down the road to Rainbow Bay beach, one of the most scenic and family friendly beaches on the Gold Coast. The Surf Life Saver patrolled beach has enough surf between the flags to keep swimmers happy, a perfect break further off shore and a calmer corner of the beach for young children to paddle without dunking. With the pure white sand, clear waters and nearby lookouts, Rainbow Bay is a great spot for family holiday photos for the snap happy parent.

For dinner, take a short drive to Burleigh Heads and grab yourself some fish'n'chips and sit in Justins Park watching the last surfers of the day carve up waves. Another options is heading up to the Gold Coast's favourite rooftop bar at Justin Lane before it gets too busy. 

If the young ones are still all hyped up then finish off the day with a family movie at Event Cinema Coolangatta. The cinema has all major films screening and shows films in 3D and Gold Class.

The Gold Coast also has plenty of family accommodation options that have great facilities for children and parents.

Images courtesy Tourism & Events Queensland, Tourism Australia, Destination Gold Coast & Getty Images