For the latest information on COVID-19 travel restrictions in Queensland, click here.
FREE stuff to do
on the Gold Coast
In spite of being known as the 'Glitter Strip', the Gold Coast isn't all money, money, money. There are plenty of fun things to do that won't cost you a cent.
While the beach is the obvious choice, you're not necessarily limited if you don't like the water (or sand for that matter). You can easily spend a day without getting your feet wet that will keep kids, teenagers and people of all ages and interests entertained.
We've put together a list of some of our favourite free things to do on the Gold Coast. From the beach to the hinterland, markets and music festivals, there's bound to be something you'll want to check out.
Visit a National Park in the Hinterland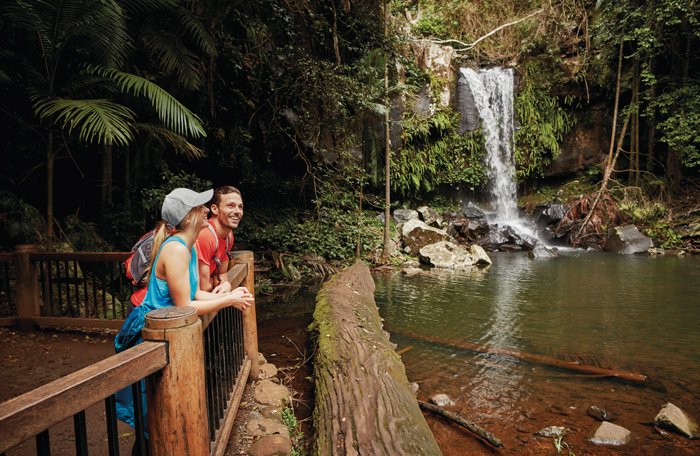 None of the National Parks charge an entry fee and you'll find the views, flora and fauna are breathtaking. You can trek through ancient rainforests, walk under waterfalls and swim in mountain streams, all free of charge.

There are plenty of bushwalking trails and clubs to help you navigate the terrain. Most of these trails lead to amazing look-outs that show off the Gold Coast's pretty skyline, beaches or hinterland. 

For more information about national parks visit our page on the Gold Coast Hinterland.

 
Go Swimming at the Beach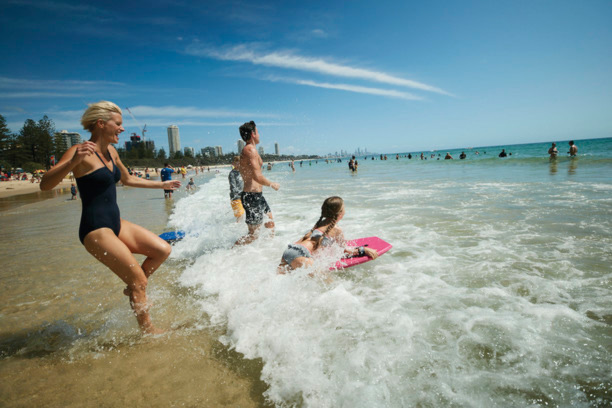 Almost all open surf beaches are patrolled by lifeguards and are protected from sharks. In fact, shark attacks are extremely rare on open beaches.

The Gold Coast beaches are always a holiday favourite, with Burleigh, Kurruwa and Coolangatta the most popular for tourists. It's a safe, fun day for the whole family, and so long as you keep yourself between the red and yellow flags you'll be under the watchful eyes of the Gold Coast Lifeguards. Read our beach guide for more information on beach safety. If you're worried about the waves, or the wildlife, there's a protected swimming enclosure in Southport, just opposite Australia Fair in Marine Parade.
Currumbin Rock Pools
Not far from Currumbin Beach is the gem of Currumbin Valley – the Currumbin Rock Pools. Enjoy a day of swimming in the fresh water rock pools and streaming creak. It's a perfect area for a family day out, complete with picnic tables, shelter, grassy river banks, BBQs, amenities and plenty of space for the kids to run around.
From the picnic area there's a 1.6km walking trail through the Mount Cougal National Park, allowing you to explore the Currumbin Valley at its best.
Lahey's Canungra Tramway Tunnel
East of Canungra on Beaudesert/Nerang Rd is a tramway tunnel built in the days of the timber mills to transport timber from the surrounding area. During World War II it was even used as an ammunition dump. It has since been restored (the live ammunition is gone) and it's open every day and the entry is free.
Due to heavy rains causing instability at the entrance and inside the tunnel, the tunnel has been closed, though the approach track is still open. 
Visit the Canungra Information Centre on Lamington National Park Road for more details or phone: 07 5543 5156
Check out O'Reilly's Tree Top Walk
O'Reilly's Tree Top Walk allows you to walk through the canopy to see flowering and fruiting trees and vines, the epiphytic orchids and ferns, and the birds and animals that inhabit the tree tops. The Tree Top Walk is only 300 metres from the Guesthouse via the Booyong Walk, a rainforest boardwalk that was built by the Green Mountains Natural History Association.

The first of it's kind in Australia, the walk is 180 metres in length, made of 9 suspension bridges, with most of the walkway hovering 15 metres above the ground. There are 2 observation decks along the way, the highest being 30 metres above the ground!

Check out O'Reilly's Tree Top Walk
---
Lookouts
You've no doubt seen some of the stunning views of the Gold Coast on postcards, with panoramas of the Hinterland mountains, golden beaches and even the main strip. There are plenty of lookout that are easy to get to, where you can see these breathtaking views for yourself. Some of which even have picnic and BBQ facilities so you can make a day of it.

The aptly named 'Best of all Lookout' in Mudgeeraba is, notably, one of the best, but there are plenty of others to visit for the perfect holiday pics. From Canyon Lookout in Springbrook National Park you can see two waterfalls and the main strip of the Gold Coast off in the distance. There's a short walking track through Burleigh Heads National Park to a beach view from the top of the headland, as well as Lores Bonney Lookout further north.

You'll also find panoramic ocean views from lookouts at Point Danger, Snapper Rocks, Currumbin Rocks, Kirra Point and many other locations throughout the Gold Coast.
Go for a Walk on the Beach at Sunrise, or After Dark
Few views can compare to the sun rising over the Pacific Ocean and the full moon rising over the water at night is so huge you won't believe it's real. Beaches are generally safe places to walk after dark, but use your common sense (don't walk alone in a totally deserted place like The Spit at 3am), and if you stick to populated beaches at reasonable hours (ie. 6am to 12am), you really shouldn't have anything to worry about.
Go Window Shopping
Most of the world's best fashion houses all have dedicated stores in Surfers Paradise or Broadbeach, and there are lots of other shopping centres and boutiques to keep your eyes interested and your wallet safe in your pocket. See our guide to Gold Coast shopping for more info on where to go.
Art & Craft Markets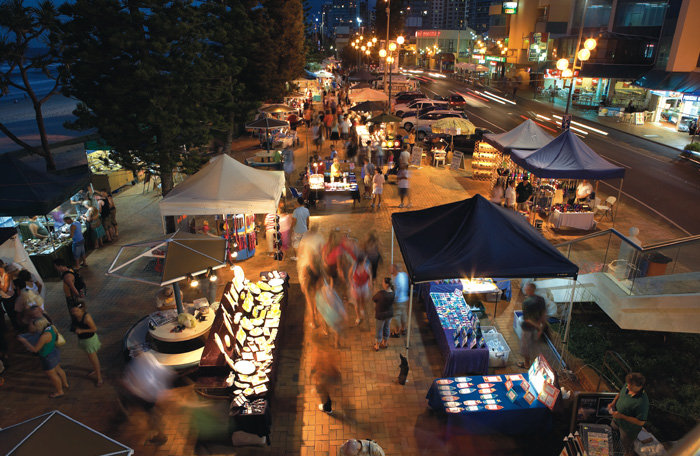 The Gold Coast is also famous for its beachfront Arts and Crafts Markets which have been drawing tourists and locals alike for almost 30 years. Popping up at a number of locations including Burleigh, Broadbeach, Coolangatta, Carrarra, Miami, Hope Island and Runaway Bay. There are so many of these regular markets that you can pretty much guarantee there will be at least a couple on every weekend.

Find a market to satisfy your curiosity, including art and crafts markets, farmers markets and even car boot sales. You'll discover all manner of unique gift ideas, innovative designs, locally made fashions and wonderful artworks. Browse for ideas or shop for a discount; the choice is yours.
Go to a Museum or Art Gallery
There are a number of Galleries and Museums that showcase some of the history and artistic talent the Gold Coast has to offer. And the best part is they're free to visit, some even offer tours.

You'll find exhibits of local art at the Robina Art Gallery in the Robina Community centre. The Gold Coast Sporting Hall of Fame showcases the region's proud sporting history and greatest athletes. Just head down to Southport's Owen Park on a Wednesday or Sunday.

Take a step back in time at the Gold Coast Historic Museum in Bundall, where you can learn all about the early settlers and see some of the first buildings in the area. There is even a replica of one of the first pioneering slab homes of the area, complete with memorabilia and pieces of machinery dating back to the 19th century. It's open on the first Sunday of every month or by appointment.

We've listed more art galleries here.
Evandale Sculpture Walk
Located right on the Nerang River in the heart of the Gold Coast, the Evandale Sculpture Walk represents a wonderful collection of local and international sculptors. There are a number of sculptures on display that have been commissioned specifically for this cultural headquarters, while many others are on loan from artists and institutions.
You'll find pieces by highly regarded international artists such as Phillip King, William Tucker and Kenneth Armitage, including Australian artists like Robert J Morriss and Stephen Newton.
All you need to do is visit the Arts Centre Gold Coast on Bundall Road for free access. From there it's a tranquil walk among well maintained gardens, a purpose made salt water lake and 49 artistic displays.
Events & Festivals
As you've probably gathered, the Gold Coast is big on culture and the arts. There are several free events and festivals throughout the year celebrating musicians, art, sports and even our multicultural society.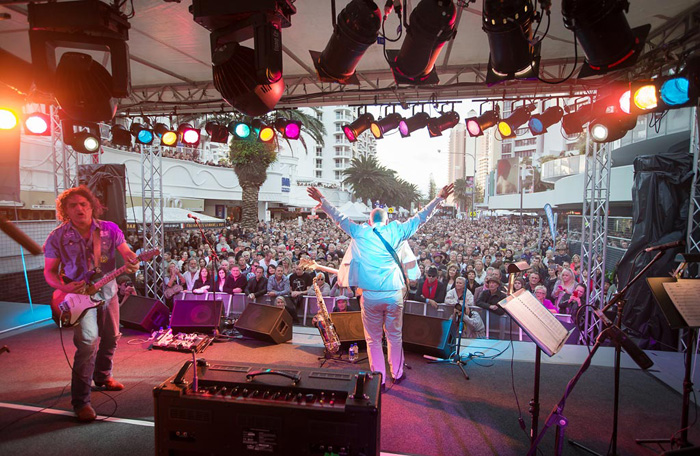 Blues on Broadbeach is held every year in May and nurtures Australian talent, bringing together the best blues and soul music from all over the country. There are multiple stages and shows creating a musical experience like no other while still remaining a non-ticketed event.

The Kirra Kite Festival is a celebration of kite culture, music, arts, food and street performance, usually in November of each year. Check the Kirra Kite Festival facebook page for current event details.

Every year Currumbin Beach becomes home to dozens of sculptures by local, national and international artists for the Swell Sculpture Festival. For the 10 days of the festival visitors can experience the sculptures for free on twilight walks and even talks from some of the artists.

The Bleach* Festival celebrates the art and culture of the Gold Coast's beach lifestyle. The next festival will present three weekends of music, arts and culture at various locations up and down the Gold Coast.

The Gold Coast Multicultural Festival is held annually and is a great place to take the family for a day out, the entertainment is free however the interesting food and drink from all over the world is not - full details www.goldcoastmulticulturalfestival.org.
---
Try the Fitness Circuits
If exercise and fitness are your forte then plan your next jog along the shore at Kurrawa Park, Broadbeach where the council has provided a number of fitness stations. There are many more parks in the Gold Coast with fitness equipment so you can search for the nearest (or furthest if you want a decent run) to you on the GC Parks website. 
Enjoy the View on a Picnic
The Gold Coast can be such a beautifully scenic area, whether you're on the coast or deep in the hinterland.
There are sites by rock pools, lakes and tranquil bushland. For a picnic area to suit your tastes take a look at the long list of sites with BBQ facilities on Connecting Southern Gold Coast's guide to picnic areas throughout the southern end of the Coast.
For a proper Australian holiday lunch you can make the most of council maintained barbecue facilities. Many of the local beaches and parks have public BBQs that are free to use, with nearby picnic tables, restrooms and playground equipment. Fill an esky with drinks, fresh snags or steaks, some bread rolls and salad, and cook yourself up a storm.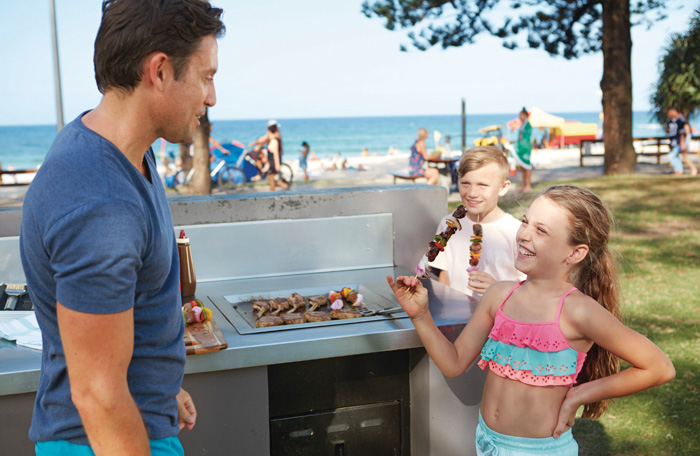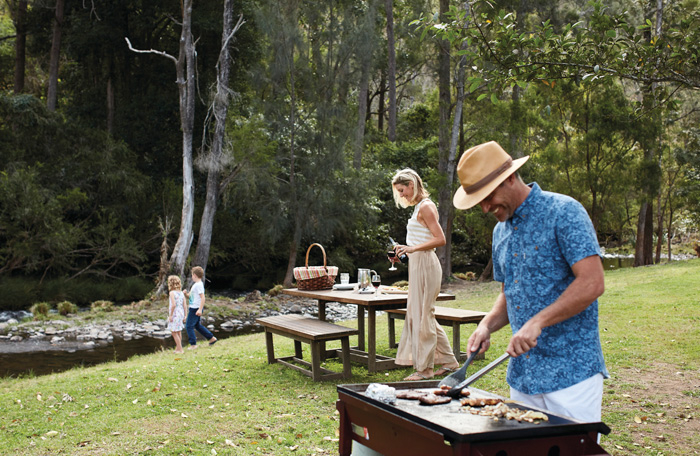 Below is a list of some of the best BBQ sites on the Gold Coast, but keep an eye out as there are plenty more throughout the local parks and reserves.
Justins Park on the Burleigh Heads Esplanade

Goodwin Park, Snapper Rocks, Coolangatta

Currumbin Valley Rock Pool, Currumbin Creek Rd, Tallebudgera

Laguna Park, 130 Laguna Ave, Palm Beach

Harley Park, Marine Parade Labrador
Esplanade North Park, The Esplanade, Paradise Point

Cascade Gardens, 2730 Gold Coast Hwy, Broadbeach

Kurrawa/Pratten Park, Old Burleigh Rd, Broadbeach

Evandale Park, 135 Bundall Rd, Surfers Paradise ( Bundall)

Springbrook Centenary Parklands, 3 Carricks Rd, Springbrook
GC Parks also has an extensive list of parks on the Coast.
Visit the Broadwater Parklands
Kids driving you crazy? Take them down to the Broadwater Parklands to get all that crazy out in a day of fun and excitement.
There is a jumping pillow, much like a jumping castle, open seven days a week for them to jump and tumble all over and the Rockpools, a water playground for children of all ages. Made with a coastal them, a variety of pool areas and a creek bed to simulate coastal tides with the water filling and emptying on timers. But watch out for the pop jets that squirt water randomly through the play area. Either join them in their madness or stay in the BBQ area, relax on the green or fish off the pier.
There really is something for everyone! Find out more about Broadwater Parklands here.
Images courtesy Tourism & Events Queensland, Tourism Australia, Destination Gold Coast & Getty Images