For the latest information on COVID-19 travel restrictions in Queensland, click here.
Gold Coast Surfing
The Gold Coast has some of the best and most consistent waves in the nation; it's home to round one of the Association of Surfing Professionals world tour; there are 70km of beaches and four epic point breaks. It would be appropriate to call it a surfers' paradise; and they did.
In fact, getting a wave on the Gold Coast is as easy as heading east to one of the many great point breaks or beach breaks. When the wind is right and the swell is from the east (usually in the morning) the beach breaks light up and surfers are almost guaranteed a wave. Those sorts of conditions happen about once a week on average, with one to two foot swells the norm throughout the year across most of the beaches.
However, the truly great swells only hit once every couple of months and as the beach breaks only handle up to about four foot of swell, the points get pretty crowded when it's pumping!
Gold Coast Surfing Guide — where to go for the best waves
Gold Coast Beach Breaks
There are some great beach breaks all along the coast with some of the best banks around The Spit, Main Beach, Narrowneck, Palm Beach and Mermaid Beach. At times these can carry some awesome waves especially when there are cyclones and big storms about.
For the rest of the time they offer reasonable waves without the crowds that usually congregate at the point breaks. It's also a Boogie Boarder's paradise with lots of great waves and even the odd barrel or two to get into, we recommend you get in early before the wind gets up. Once the wind is up around Narrowneck than the Kite Surfers take over. 
---
Gold Coast Point Breaks
Snapper Rocks Superbank
The now legendary 'Superbank' breaks just north of the NSW/QLD border, the break starts at Snapper Rocks, can hold out in massive swells and is home to the longest rideable waves in the world. It's consistent but possibly the most crowded wave in Australia. When it's pumping, the locals guard the water pretty fiercely. On any truly good day there will be a number of world champions in the water, so unless you're a world class sufer, a local, or preferably both, you won't see the inside of a barrel. However, if you follow surf etiquette and don't drop in on anybody you'll be sure to get a look in.  
Burleigh Heads
The grand-daddy of Gold Coast point breaks, Burleigh is an absolute classic right-hander which holds bigger swells than pretty much any other point between Fiji and Bells Beach. When it's small, it's still surfable but when things get going, the wave is legendary.
Kirra
Before the Superbank was created Kirra was the favourite wave on the Gold Coast — sadly, the shape of Rainbow Bay in which it sits has changed so much that Kirra now plays second-fiddle to Snapper. It still holds its own, in fact in cyclone season the swell becomes part of the Superbank. Usually it is now considered the older, less popular brother of Snapper. It's still popular with Body Boarders and it is also a truly beautiful beach to just hang out at.
South Stradbroke Island (Straddie)
If you're not scared of sharks or ships, South Stradbroke Island is one of the cleanest, most consistent breaks in Queensland. Getting there involves a paddle across the Gold Coast Seaway, but it's worth the effort, especially at sunrise. If the journey across the Seaway scares you then plenty of water taxis operate from different points on the Gold Coast.
Learn to Surf!
Dive in board first and experience surfing on the world famous Surfers Paradise Beach with this fully guided lesson from expert surfers. You'll feel like a pro in no time as you're taught how to paddle, stand and balance to ride that wave back to shore. After a lesson on land you'll take to the waters to put your new skills into action and hopefully nail a few of those waves! This 2 hour lessonis incredibly popular, occuring at 10am and 2pm daily. 
Book Online
There's only one way to get started, and that's to get in the water! However, a few helpful tips, the right equipment, and heaps of encouragement from your highly qualified and experienced instructor will go a long way to getting you hooked forever. This 2 hour lesson is held at The Spit which provides perfect conditions for both beginners and intermediate surfers. All equipment is provided, just bring your swimmers, a towel and a smile!
Book Online
Choose between a half day or full day surfing adventure and learn how to paddle out, stand up and catch a wave. This tour includes a half-hour yoga lesson to help stretch and relax your muscles before you jump in plus a professional photo package for no extra charge. If you choose the full day tour you also get a delicious lunch and snacks throughout the day plus a tour of Fingal Head Lighthouse. An awesome day out.
Book Online
Surfboard Hire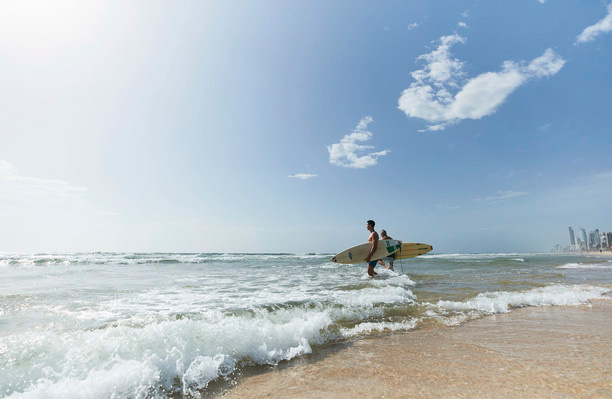 You can hire out a huge variety of boards around the Gold Coast including shortboards, malibu longboards, mini mals and learner boards. All boards come with a leg rope and wax and wetsuits and soft roof racks are also available to hire for those who need them.

You can hire a board from heaps of different locations close to the beach, from Surfers Paradise to Currumbin and in between.

Try to make sure you can hire a board for the entire length of your visit, so you always have your board on hand to take advantage of any early morning swell. No waiting for the shop to open in the morning so you can hire a board!

Images courtesy Tourism & Events Queensland, Tourism Australia, Destination Gold Coast & Getty Images