For the latest information on COVID-19 travel restrictions in Queensland, click here.
Gold Coast Dog Exercise Areas
And Dog Parks
Dog exercise areas is a signed part of a park, foreshore or beach provided by the Gold Coast City Council for dog owners to exercise their dogs. These areas have been designed to cater for the recreational needs of Gold Coast dog owners and non dog owners throughout the community and often feature specific facilities such as fenced areas, dog poo bag holders, bins and special "dog-level" drinking taps and basins.
How to use the exercise areas
When using dog exercise areas and dog parks, you can unleash your dog but the dog must be under effective control. Remember these areas have been provided for your use so consider the other dogs and owners who may use the area after you have had your fun. Please make sure you pick up after yourself and your dog and leave the area as you found it.
Use of these areas will assist to:
socialise your dog

reduce aggressive behaviour

reduce stress and stress related habits, digging/barking at home, etc.

reduce boredom

enhance mental stimulation

enhance the general well-being of your animal.
Dogs that are not exercised can develop behavioural problems such as aggression and excessive barking. They are also more likely to be destructive to get attention.
Rules when using the areas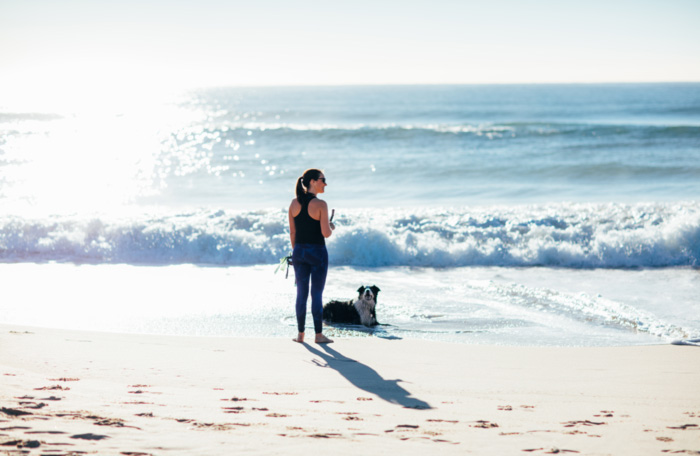 Always consider those who may also use the area.
Pick up after your dog
Heavily used areas may have a bin provided with disposal bags attached to assist in the removal of dog faeces, normal bins can also be used as receptacles. To keep the areas environmentally friendly it is up to the individual to be a Responsible Pet Owner.

Control your dog
The exercise areas are leash free zones and it is up to the owner to be responsible and maintain control of their dog while using the exercise areas.

A dog is under off leash effective control if: 

it responds to the command of the person exercising the dog, and
it remains in the immediate vicinity of the person exercising the dog.
The material above has been derived from the GCCC website at www.goldcoast.qld.gov.au/thegoldcoast/dog-exercise-areas-972.html
Dogs At The Beach
If you keep your dog on a leash you can walk your dog along most Gold Coast beaches. As long as you stay 200 metres away from flagged areas and clean up after your dog you should both be able to enjoy some time by the surf. The Spit, Tallebudgera Beach and Palm Beach are three off-leash dog areas and make up for over three kilmoetres of beach for off-leash doggy surfing fun.
More Information
Images courtesy Tourism & Events Queensland, Tourism Australia, Destination Gold Coast & Getty Images