For the latest information on COVID-19 travel restrictions in Queensland, click here.
Surfers Paradise
Holiday Destination
With the warm Pacific Ocean on one side, the deep blue Nerang River on the other, and more shops, restaurants, high rise resorts and attractions than probably any other peninsula on earth - Surfers Paradise is the undisputed tourist capital of Australia, and some would even argue the world.
Surfers Paradise gets very busy during peak holiday periods (Christmas, Easter, school holidays and during a major event), but despite the crowds it's still an incredibly beautiful, safe and happy city with great weather and unlike many resort towns around the world, tourists are welcomed with big open arms, big Queensland smiles and bright Queensland sunshine.
Holidaymakers are attracted to the neon lights, endless high rise buildings, golden sand, sunny atmosphere and laid-back lifestyle. In Surfers Paradise, you can be comfortable in a tuxedo eating at a five-star restaurant or walking down the main street in your swimmers and thongs!
Things to do in Surfers Paradise
Natural Attractions
They don't call it a "surfer's paradise" for nothing, so it's not surprising the main drawcard is the 150m wide stretch of sand that extends for almost 10km in each direction. The beach is patrolled year-round and it's safe to swim - so jump in, but make sure you swim between the flags!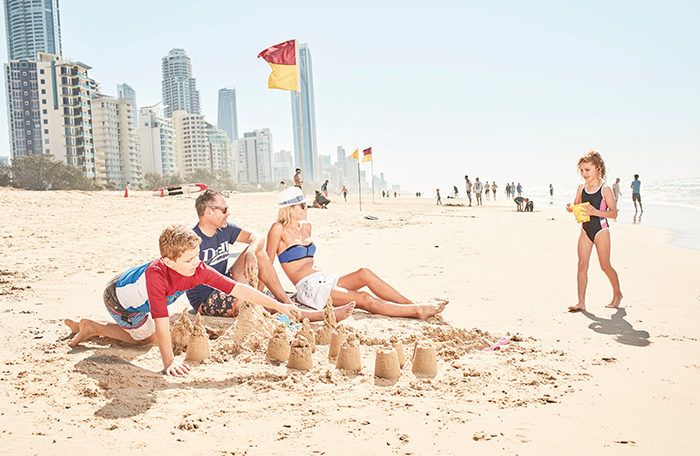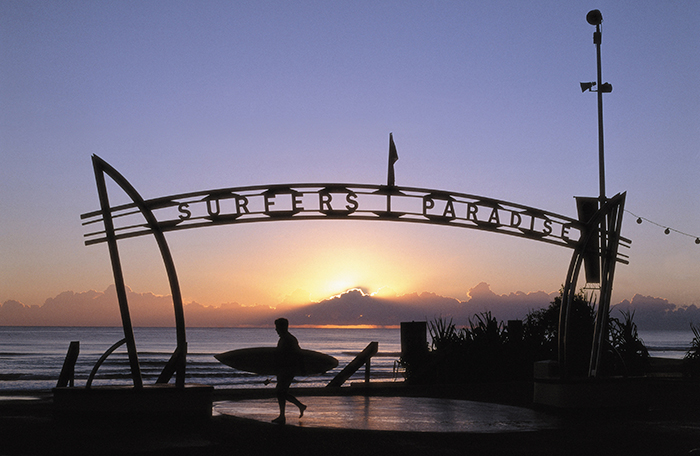 Surfers is also an excellent beach to learn how to surf, with a few local surf companies established right along The Esplanade opposite the beach, offering board hire and lessons. You can also book surfing lessons online here!
Macintosh Island Park is an oasis amidst the high rises of Surfers Paradise. This large park is popular with locals and holidaymakers with its huge shaded areas, playgrounds, waterfall, BBQ facilities and picnic tables. There's a stream running through the park which many ducks and lyrebirds call home. 
---
Tourist Attractions
Being one of the most popular tourist destinations in Australia, Surfers Paradise has one of the largest selections of tourist attractions and activities on the Gold Coast!
There's Ripley's Believe it or Not, a unique museum housing the odd and amazing.

The ultimate experience for any adrenalin junky is the Jet Boat adventure ride departing from Surfers Paradise.

Ever wanted to fly? Visit indoor skydiving centre iFLY and free fall without the fear.

Climb to the top of the Q1 tower with one of the Gold Coast's most popular attractions, the SkyPoint Climb.

Take a mind-blowing journey through Infinity, a maze of futuristic worlds and 20 multi-sensory environments.

Take game lovers to Timezone, the largest indoor gaming centre in Australia!

Visit the Wax Museum to see which celebs you can pick.

Swap your bathers for a jumper and take to the Gold Coast Ice Skating rink. 

Strike Bowling offers a fun night out with both bowling and Karaoke!

Sound the siren and journey through Surfers Paradise on an authentic Fire Truck.
You can choose to see Surfers Paradise by land or by sea, or if you hop aboard the amphibious Aquaduck you can discover it both ways. The Aquaduck lets you discover the Gold Coast by land and sea without even leaving your seat! Your return journey will begin in the heart of Surfers Paradise, taking in views of the famous, golden Gold Coast beaches while waddling along the beachfront. The vehicle then "transforms" into a boat as the Aquaduck goes harbour cruising, taking in the sights of the Broadwater, fabulous mansions, canals and more.
Stick to the water and journey through Surfers Paradise's canals and waterways on board the sightseeing river cruise, sunset kayak or stand up paddle boarding tours, or go for something more extreme such as an exhilarating jet boat ride. 
There is also plenty of combo passes available to help you get the most out of your holiday within a short period of time.
The Surfers skyline also features Q1, the tallest residential building in the world. Take the world's fastest elevator to level 77 and experience the SkyPoint Observation Deck - with spectacular views from the hinterland out to sea, you'll be able to take in the beauty of the Gold Coast in its entirety. If looking through glass isn't exciting enough for you, the SkyPoint climb should satisfy your adrenaline cravings, being Australia's highest external building walk (at 270m above sea level). 
Shopping
Shops of all sorts line the streets of Surfers Paradise selling souvenirs, bikinis, sunhats and supplies. You'll find all the typical souvenir shops and discount stores for the real touristy stuff like stuffed koalas, chocolate-covered macadamia nuts and authentic ugg boats. Interspersed amongst the souvenirs are shops selling bikinis, boardshorts and thongs designed by surfwear favourites.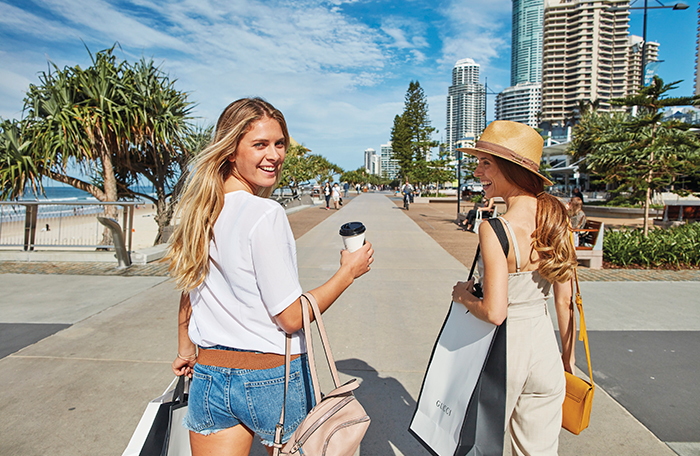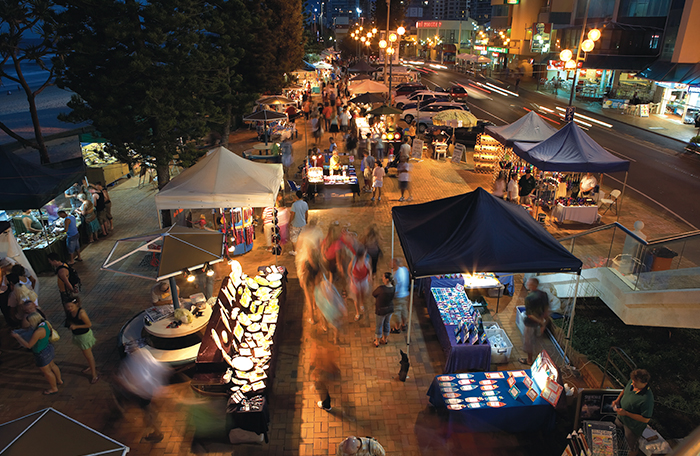 There's a number of small shopping centres in Surfers Paradise where you can pick up supplies for your holiday including Chevron Renaissance, Paradise Centre and Circle on Cavill. The centres will service all your needs with supermarkets, bottle shops, banks, chemist and specialty stores selling everything from clothes to boogie boards. 
Every Wednesday, Friday and Sunday night (weather permitting) stallholders set up their homemade wares on The Esplanade overlooking Surfers Paradise beach. With over 100 stalls at the Beachfront Markets, you'll be able to find yourself some unique treasure or gift. There's a wide range of quality, one-off pieces including fashion, jewellery, accessories, artworks, beauty products and homewares. 
Dining
You can find heaps of restaurants selling good fish'n'chips, steaks and fry up breakfasts but over the last few years, a number of hip and delicious restaurants have opened their doors. Though, that's not to say old time favourites like Charlie's in Cavill Avenue shouldn't get a look in.

Burger aficionados have been flocking to Brooklyn Depot for their mouth watering, handcrafted burgers. With thick handspun milkshakes, hot dawgs, ice cream sandwiches and a great list of brews, it is the place to go of an evening. Across the bridge on Chevron Island, Fu Manchu Oriental Kitchen combines Asian and European flavours to create a truly unique feed with upstairs and downstairs dining. 

There's nothing like a good coffee before you hit the beach or the theme parks (or after a big in a Surfers nightclub) and Surfers has plenty of good cafes. Head into Paradox Coffee Roasters where coffee is at the heart of everything they do and the food is sourced locally and seasonally. Stairwell Coffee located beneath the stairs in The Centre Arcade also gets a favourable mention for their cold-brew and nitro coffee. Our favourite place to enjoy breakfast is Bumbles overlooking Budds Beach. This refurbed house come cafe, located a 5 minute walk outside of Surfers is simply adorable and with their evolving menu and river-view dining we think you should check it out at least once.

There are a number of arcades (like laneways) dissecting the area between the Surfers Paradise Blvd and Orchid Avenue. Here you can be transported to Asia, with many holes in the wall restaurants offering authentic fare from Korea, Thailand, Malaysia and Japan. We recommend you head to Amimoto for the best sushi and sashimi in South East Queensland. 

Many of the quality hotels in Surfers Paradise have fantastic restaurants inside their towers with Bazaar at QT, Citrique at the Marriott and Seaduction Restaurant & Bar at Peppers Soul.

 
Events
Surfers Paradise is never sleepy or boring but when an event comes to town the place really comes alive. The Vodafone Gold Coast 600 (what was the Indy 300 back in the day) is a motorsport extravaganza. National and international revheads converge in Surfers Paradise for 3 days of street racing, big music acts and plenty of parties. The race winds through the streets of Surfers and Main Beach so the best vantage point is from the accommodation trackside. 
Another huge event for Surfers is the annual Schoolies festival which attracts school leavers from all over Australia. It marks the end of exams, assignments and school and the start of freedom - it's become a rite of passage for most Year 12 students. There are lots of official events with concerts on the sand, dance parties and celebrity meet and greets. Schoolies got a bad wrap for a while but as the event has matured the police and volunteer presence has grown to help keep all the kids safe. 
In the second week of January every year, the glitterati head trackside for the racing carnival Magic Millions. While not strictly in Surfers, the event brings lots of punters to stay for the week long event. It's not all about hats and ties as the event is also home to the Southern Hemisphere's leading thoroughbred sales company. In 2017, the yearling sales grossed over $196 million so you bet things get pretty serious in the stands. 
Surfers Paradise has plenty of free events held throughout the year adding to the party vibe of this beachside town. Surfers Paradise Live teams up with the Gold Coast Music Awards to create an amazing live music experience. There are multiple stages and all kinds of music genres playing over 3 days.
The Sand Safari Arts Festival features sand and sea-inspired art with the Australian Sand Sculpting Championships drawing in thousands of visitors. You can vote for your favourite masterpiece or follow the Sand Trail of art throughout Surfers, the best part is it is free!
The world's leading Pyrotechnic designers and producers light up the Surfers Paradise sky with SeaFire. It's a hypnotic firework display held on Surfers Paradise beach. Also on the beach (and free) is the Bush Meets Beach festival which sees the famous beach become a stockyard with mobs of sheep, horses and a one-tonne bull take to the sandy shores. Spectators can watch breakers and stockmen show off their skills as they put the animals through their paces. 
---
Nightlife
Surfers in known amongst locals to be THE place to go for a big night out, with the majority of the Gold Coast's nightclubs, bars and pubs located in and around Orchid and Cavill Avenues.

The scene can be a bit less glamorous late on a Saturday night (well... Sunday morning) but if you're looking for a place to wet your whistle then this is the place to go - and because there are so many holiday accommodation options in Surfers, you'll typically be able to walk back to your hotel rather than wait in a taxi line.

There's lounge bars, hip hop venues, dance clubs, Irish pubs and live music venues - there's plenty of choices to keep you busy at night. One of the most iconic bars to park yourself at is the Surfers Paradise Tavern and the famous Beergarden. Opening in 1925, the venue has evolved with the times and is now the leading rock venue in Surfers Paradise. Another place to rock out to is the House of Brews, which has 32 beers on tap, BBQ and live music aplenty.

The Island Rooftop has become a favourite hang out for people with the rooftop bar setting the scene for a fantastic night out. Dine, dance, drink cocktails and enjoy the glittering lights of Surfers Paradise while you do it. Don't want to leave the party? Downstairs is fully refurbed boutique hotel. The QT hotel also has a stylish Lounge Bar with over 50 tequilas to choose from, fresh food menu and weekend DJs, it's the perfect place to let your hair down after a day at the beach. 

Images courtesy Tourism & Events Queensland, Tourism Australia, Destination Gold Coast & Getty Images