For the latest information on COVID-19 travel restrictions in Queensland, click here.
The Spit - Southport Seaway
Holiday Destination
The Spit is a 5km long, relatively undeveloped for now, sandy isthmus starting at Main Beach and finishing at the seaway where Broadwater meets the Pacific Ocean. Don't be fooled, The Spit is not at all sleepy as it is also home to Sea World, 5 Star Resorts and some of the Gold Coast's best dining and shopping.
Things to Do at The Spit
Natural Attractions
The Seaway at The Spit has been voted as the best place to fish on the Gold Coast with anglers reeling in year round hauls of yellowtail, kingfish, whitehead and flathead. It's a pretty arduous place to fish with strong currents and rocky conditions. The Sand Pumping Jetty is another local favourite with the Summer and Spring being especially fruitful. 
Don't fancy eating the fish? Why not go swimming with them. The Seaway is the most reliable snorkelling and diving site in the region and is made up of 5 distinct areas. The most popular is the South Wall Dive Area where it isn't uncommon to come face to face with Giant QLD Groupers and schools of Giant Trevally. The Seaway caters for every level of divers and you can find book diving and snorkelling tours here.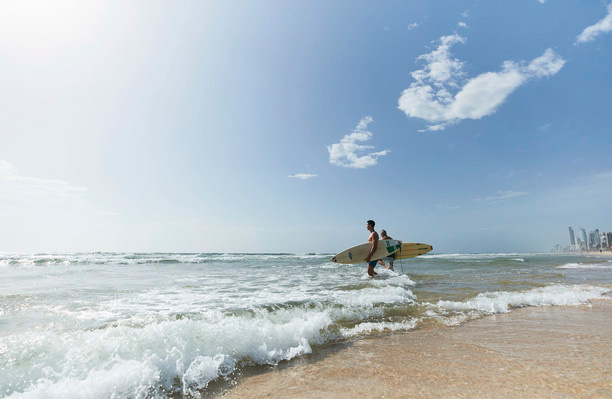 The beach is a favourite for surfers as there are good breaks regardless of swell direction, with the conditions more dependent on the strength and direction of the wind. There are plenty of access points for surfers to find beach breaks with very few other surfers in the water. The northern end by The Seaway is a good place to get away from the crowds and the beach is dog friendly - read some guidelines about how to use dog exercise areas. Keep in mind there is usually no lifeguard supervision at The Spit outside of holiday season. If you're not into waves there are some calm waters, perfect for paddling, on the Broadwater side of the The Spit. 
Federation Walk meanders along the sand dunes on the ocean side, stretching from Main Beach to the Seaway. It is an easy walk on crushed sandstone path that also attracts mountain bike riders and joggers. 
Tourist Attractions
Family favourite theme park, Sea World, is located on The Spit and is open every day of the year but Christmas Day. Buy daily, weekly and even yearly tickets that will give you access to the wonderful marine life, exciting rides and thrilling shows. 
The Broadwater which runs along the western side of The Spit is one of the Gold Coast's best playgrounds with watersports galore available. Take a kayak tour, jump on a jetski, cruise or strap yourself into a Jet Boat and explore the sights and sounds (you might hear a seal barking from Sea World) as you putt, paddle or power up and down the Broadwater. 
Ideal for beginners, this 3-4 hour scuba diving experience will take you to Wavebreak Island for an introductory dive. No experience is necessary and you'll be in great hands with a certified instructor to show you the ropes of the equipment and techniques before hitting the water. See a variety of marine life and colourful coral just off the coast of the island, in a fun and safe environment. Be warned, once you start you'll be hooked on diving!
Book Online
This tour is for qualified, licensed scuba divers and includes all of your diving equipment and courtesy pick up and drop off to and from your hotel. Taking you to Wave Break Island, you'll see a large selection of marine life including coral, tropical fish and Wobbegong sharks. One of the best sheltered dives, you can even hand feed the fish! Departing from Mariners Cove in Main Beach, make sure you bring an underwater camera with you.
Book Online
Join this exclusive 2 hour lunch cruise departing from the heart of the Gold Coast with a delicious buffet lunch that takes you through the extensive Surfers Paradise canal system - larger than the systems of Venice and Amsterdam combined! Then head out to the Broadwater to soak in some views of the coast's skyline. Enjoy your seafood and chicken lunch, perhaps a drink from the fully-licensed onboard bar, and soak in the sunshine from the deck.
Book Online
Shopping
Marina Mirage has long been one of the most iconic and idyllic shopping destinations on the Gold Coast. Boutiques cover two floors of this open planned shopping centre with many international and Australian designers calling the space home. Shop the denim wall at Janine Edwards, find resort wear at Holiday and dress your man in John Forsyth. There's also a number of chainstores like Seed, Mimco, Sunburn and Tommy Bahama making a showing. There's homewares stores, an art gallery and even a place to buy the most discerning dog a new outfit. 

Every Saturday a Farmers Market pops up on the ground level of Marina Mirage under the white sails. Producers from all over region come to sell their fresh, organic produce, artisan cheeses, baked delights and flowers. You can make a day of it by enjoying a coffee at one of the cafes and with heaps of undercover parking you can kick on to lunch.

The Gold Coast Fisherman's Co-Opertaive is the best place to buy the freshest seafood on the Gold Coast. You are buying straight from the local Prawn Trawlers, Tuna Long Liners and Spanner Crab Vessels and the only way it could get any fresher was if you caught it yourself. They open 7 days a week at 7am and are only open until they sell out. Take a look at their website to see Today's Catch.
Dining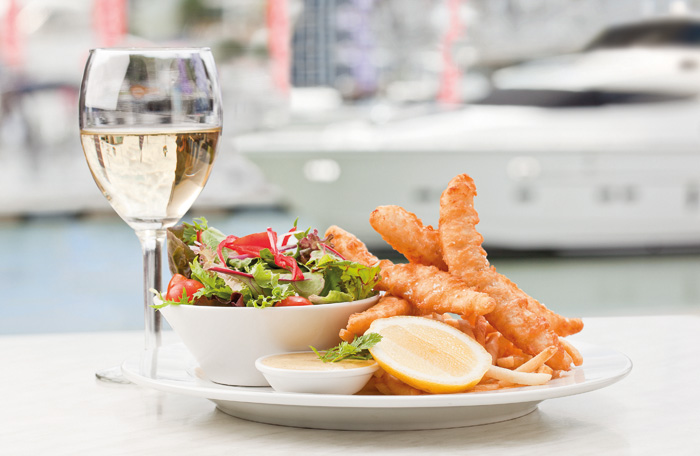 You'll love sitting on the deck of Marina Mirage, soaking up the sun and some bubbley while watching the super yachts swan by. The restaurants here are perfect for a special occasion or just a lovely meal out with friends. Local favourites include Omeros Bros, a seafood restaurant that offers relaxed fine dining and Glass Dining & Lounge Bar where you comfortably transition from lunch into dinner. There are some cheaper options inside Marina Mirage with Providore, McDonald's and dessert specialist, Max Brenner. 

Peter's Fish Market, located in a little shack and dwarfed by Palazzo Versace, is a Gold Coast institution. Everything is cooked to order so you can choose your very own catch of the day and decide on how you'd like it cooked - battered, crumbed or grilled. Then choose some accompaniments like lobster mornay, prawn skwewers and of course hot chips.  Take your grease proof paper and sit outside under the umbrellas and keep an eye out for hungry seagulls!

Le Jardin at Palazzo Versace whips up a very tasty Coutue High Tea. Think delicate finger sandwiches, airy scones, macarons and petit fours all washed down with your choice of Champagne. Located in the lobby it is the perfect spot to spend an afternoon people watching.

The Gold Coast's most renowned seafood buffet is located inside the 5 star Sheraton Grand Mirage Resort. Newly refurbished Terraces Restaurant welcomes diners to feast on sumptuous seafood and enjoy the shimmer from the resort's lagoon.
Main Events
Held at Doug Jennings Park, Ferrari Brisbane's Polo by the Sea, has become a permanent fixture on the Gold Coast's social scene. The competition is highly skilled and the horses (and players!) something to behold. The crowd dress up in their best attire with woman adorning hats and the men suit up - it's a truly spectacular day out and the only event of its kind on the Gold Coast.
Nightlife
The Seaway at The Spit has become a popular spot for night diving. Night diving provides you a totally new and awe-inspiring experience as fish, dolphins, rays and crazy looking marine invertebrates become bolder as they become less afraid to enter your personal space. Several operators work out of here, but night dives are incredibly popular so make sure you book early.

Most of the waterside restaurants at Marina Mirage are perfect for sunset drinks. It's one of the most desirable locations on the GC to see and be seen so make sure you get yourself dolled up accordingly. 
More information on The Spit, Gold Coast
Images courtesy Tourism & Events Queensland, Tourism Australia, Destination Gold Coast & Getty Images