For the latest information on COVID-19 travel restrictions in Queensland, click here.
The Northern Gold Coast
Explore this destination
Hope Island is an island suburb of the Gold Coast that is largely made up of gated communities, including Sanctuary Cove. The canal system that surrounds the island makes for beautiful waterfront homes secluded from the rest of the Gold Coast and creates a thriving boating community centred at the Hope Island Marina.
Hundreds of boats dock here and make use of the access to tranquil waters throughout the canals and out to the Broadwater and the sea.
The two main gated communities on the island are Sanctuary Cove and Hope Island Resort, both of which contain amazing houses and first-class facilities with the protection of regular security patrols. Sanctuary Cove Resort is well known as a tourist destination for its waterways, parklands, harbours and golf courses. 
Paradise Point is a vibrant area, home to young families and also older residents. The bustling area around The Esplanade is popular with locals from Paradise Point and also from the man made islands, Sovereign Island and Ephraim Island. These affluent island communities are made up of luxury mansions which offer direct ocean access for boating enthusiasts. 
Runaway Bay is a calm little hide-away at the Northern end of the Gold Coast. The Bay has its own marina that offers open waters access but is sheltered from the rough seas by Stradbroke Island. The area is a boat lover's dream, with amply boating opportunities and some parts of the suburb having no bridges, allowing high mast access to the Broadwater and the Seaway.
Next to the Pacific Motorway, Coomera is in a great location to take you quickly up to Brisbane or high tail it to the airport. It's also just a short drive from the theme parks; Movie World, Dreamworld and Wet'n'Wild making it a great area to stay in if you are in town to visit them!
Things To Do in Northern Gold Coast
Attractions
Ask any child (and child at heart) what they want to do on the Gold Coast and you'll always hear a resounding cry to visit the theme parks. Movie World, Dreamworld and Wet'n'Wild are located down the northern end of the Gold Coast and offer visitors a fantastic day out. You can also enjoy visiting the Aussie animals at Paradise Country or watch the amazing feats at the Australian Outback Spectacular while you dig into your steak and damper. Buy tickets for your visit! 
The Hope Island Resort has a public championship 18-hole golf course designed by British Open Champion Peter Thompson. Sanctuary Cove Golf and Country Club boasts two outstanding championship courses, practice facilities and a Clubhouse with several world class facilities. The Country Club is more resort than golf club, with day spa, pool, sports facilities, restaurants, bars and function areas.
Protected by South Stradbroke Island, Runaway Bay Marina is an easy to manage marina with access to open water through the Gold Coast Seaway. The facilities include both wet and dry berths and is located close enough to enjoy the waters of the ocean, Gold Coast shoreline and the canal systems. There are many deep sea fishing charters and dive boats that regularly leave out of Runaway Bay. Take your pick of small or large vessels and groups, and several fishing locations to choose from.
The Runaway Bay Sports Super Centre is a new, leading training facility that caters to athletes and the public. It is home to several sporting matches and also has accommodation and dining facilities along with function capabilities.
Paradise Point Parklands is a wonderful place to kick back and enjoy some beautiful Gold Coast weather. There's a play area for kids of all ages, volley ball net, BBQ areas, safe swimming area all located across the road from the The Esplanade. Pick up your ingredients for a picnic and spend a day enjoying the park with family and friends. 
Shopping
Harbour Town Outlet Shopping Centre is on most tourists bucket list when they come to the Gold Coast. This outdoor shopping centre is home to outlets for Hugo Boss, Ralph Lauren, Nike, Sheridan and so many other big name brands offering low prices in clothing, accessories, homewares, beauty products, games... There's also a number of restaurants, cafes and plenty of places to stock up your holiday pantry.

Marine Village in the heart of Sanctuary Cove sits on the edge of the harbour and has many clothing boutiques selling holiday friendly fashions, homewares as well as a theatre and several cafes and restaurants to choose from. Most months Sanctuary Cove hosts the Mummy Tree Markets which sources quality products for the stylish family. Families can shop to a backdrop of children's entertainment with nourishment coming from a number of yummy food stalls.

Most suburbs have their own shopping centres selling clothing to food and everything in between with services like Banks and Post Offices. Westfield is going into Coomera with a $1 billion project commencing in 2017, the centre is going to become a major shopping destination for the Northern Gold Coast. 
Dining 
Sanctuary Cove Marine Village is home to a number of quality restaurants and cafes with many sitting on the stunning waterfront. Two notable retaurants are Cafe Nineteen which is an oldy but a goody for a relaxed meal and on the other end of the spectrum, Jonez on Food offers fine dining for food enthusiasts. 
There are some great restaurants, cafes and ice cream shops lining The Esplanade in Paradise Point. Local favourites include The Point Forty Four which is open from morning to night, Cafe 7 for fresh eats and the award winning Mano's Italian Restaurant and Bar.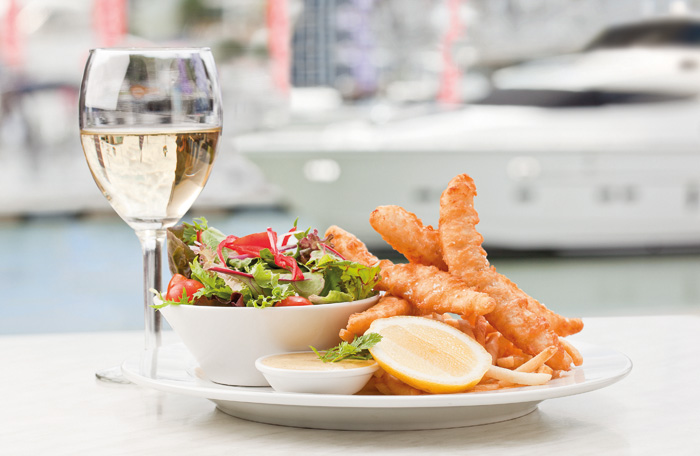 The Galley which sits on the marina in Coomera embraces all things nautical and with views out to the mangroves, it's an idyllic spot for breakfast, lunch and a weekend dinner served by priates. 
Hope Island Tavern on Broadwater Ave is a child friendly venue with kids play areas, lounge and cocktail bars as well as indoor and outdoor dining. If you're after a hearty meal and a good time then go no further than the Runaway Bay Tavern, right next to the Runaway Bay Shopping Village.
Main Events
The Sanctuary Cove International Boat Show is an annual 4 day event held in May at Sanctuary Cove. The show is a must for marine enthusiasts as it displays a wide selection of yachts, power cruisers, multihulls, kayaks, jetskis and all kinds of marine accessories. In 2018, the show will be celebrating ther 30th anniversary with on-water displays, marine pavillian, supercar street, the boatyard, kids zone and exciting events! 

The Paddock at NightQuarter attracts touring national and international acts. These events often sell out within hours as bands like the Hoodoo Gurus, Killing Heidi and so many more taking the stage. The crew are committed to keeping live music alive on the Gold Coast and have created this festival type space so visitors can dance and sing to their favourite songs. 

The Coomera Indoor Sports Centre will play host to the Gold Coast 2018 Commonwealth Games Artistic and Rhythmic in April 2018. Watch amazing athletes from around the world compete for gold. 
Nightlife
Food, drinks, fashions and music intersect on Friday and Saturday's at Helensvale's NightQuarter. It's a feast for all your senses as you wander through live music space, The Paddock and enjoy a moveable feast of cuisines located inside shipping containers and stop to fondle local fashions and wares in the night market. 
Hope Island Marina is a beautiful spot for al fresco dining and drinks with views over the water. The Boardwalk Tavern is located here and is a great spot for live music on the weekends. Another local favourite is Tiffany's Cafe & Cocktails where you can enjoy a champagne whilst feeling like you're sitting in a Tiffany's jewellery box. 
Locals flock to the Dublin Docks Tavern located across the road from Harbour Town Shopping Centre. Stop in for a long lunch or a relaxing meal in the Bistro, you can bring the kids along too as there's an enclosed play area. Another Tavern offering great food and drinks in a relaxing environment is the Cove Tavern at Sanctuary Cove. 
Images courtesy Tourism & Events Queensland, Tourism Australia, Destination Gold Coast, Getty Images, Sanctuary Cove Resort, Hope Island Marina, Runaway Bay Marina, Harbour Town Outlet Shopping Centre