Sea World
Marine Life, Rides & Entertainment
Enter the wonderful world of Sea World on the Gold Coast and be delighted by the magical marine animals that call this place home. Enjoy some of Australia's most thrilling rides and entertaining shows that promise a full day of family entertainment.
Sea World, one of Australia's most popular amusement parks, is the only place in Australia where you can get up close and personal with a myriad of land and marine animals. Holding Sea World tickets 
offers guests a wonderful experience that not only educates but also entertains them. Learn about our special ecosystems, watch dolphins play and maybe even kiss a seal!
This park is a wonderful day out for everyone and you might find that you need more than one day to fully enjoy its magic. There are plenty of restaurants, food stalls and refreshment stands as well as shops so you can score yourself a souvenir of your day at Sea World Marine Park on the Gold Coast.
Buy Sea World Tickets Online & Save!
A visit to Sea World can't be missed during your stay on the Gold Coast. Just don't get caught spending big on admission prices! It's often much cheaper to buy Sea World tickets and passes online - you can purchase individual Sea World theme park tickets (one-day entry), but if you like savings and exclusive offers (like most of us), you may be interested in our online pricing for combo passes that will get you unlimited entry into three Gold Coast theme parks: Sea World, Warner Bros. Movie World and Wet'n'Wild over 3, 7 or 14 days.
Plus, for a limited time, get FREE entry to a 4th theme park - Paradise Country - as a BONUS entry (valued at $49 per ticket). You can also buy the Locals Village Roadshow One pass which grants you 12 months unlimited entry from your first visit.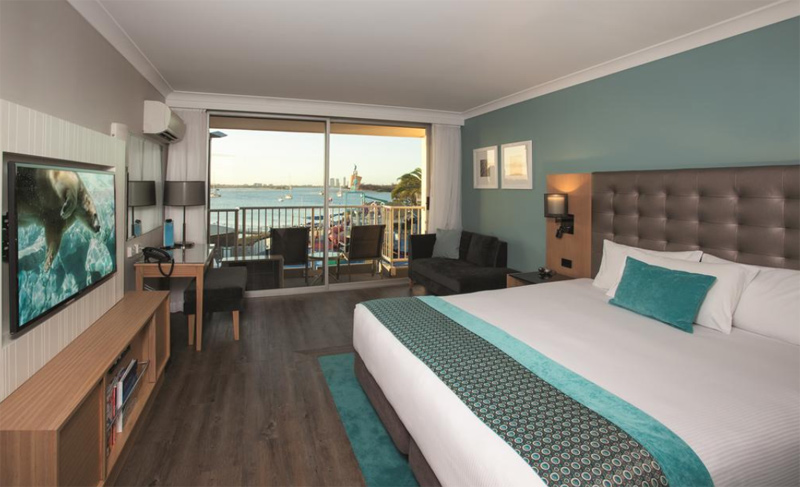 Price: $119 to $364 AUD.
1740 reviews (average score 8)

The Sea World Resort is the perfect theme park holiday destination boasting 4.5-star facilities, easy access to the Gold Coast beaches and shopping and walking distance to Sea World. The resort has over 400 rooms accommodating up to 4 guests, all with balcony or patio outlooks. Within the resort are 4 restaurants, 2 bars, an evening Kids Club (for 4½ to 12 years), massage, beauty and a gymnasium. In fact, Sea World Resort is the only hotel in Australia where you will receive an exclusive Dolphin Presentation at Dolphin Cove for free when you stay 2 nights or more. It's no wonder the resort has been voted the number one family resort in Australia for 3 years in a row.
See the Marine Attractions and Animal Exhibits at Sea World
Penguin Encounter is an icy home away from home to three different types of penguins: the cute and dainty Fairy penguin, the statuesque King penguin and the playful Gentoo penguin with its long tail and red bill. Step inside this frozen world and watch the penguins lay about on rock formations and frolic in the water. It's the only place of its kind in Australia and is a great feature at Sea World.

Sea World's Shark Bay is a great place to visit and conquer your fears as well as learn about these mysterious and incredible creatures. The lagoon is the world's largest and operates on two levels so that you can gain a great view of how the animals live in three huge windows. There is an amazing assortment of sharks as well as stingrays, turtles and tropical fish. There's also a touch pool and you can even book in and swim with the sharks.

Sea World is the only place in Australia where you can get up close and personal with Polar Bears at Sea World's Polar Bear Shores. The three bears have grown up living in this state-of-the-art display where every day is an Arctic Summer. You can watch these sometimes playful bears explore their habitat and swim in their large pool in an underwater viewing enclosure.

Penguin Point is home to 29 adorable and often clumsy Fairy Penguins. Their habitat has been created to give it a purely natural feel and contains a large pool for swimming, gravel and grass for the penguins to enjoy and play with. In recent years 30 specially designed burrows have been included to help aid the Fairy Penguins in the breeding season. What could be cuter than a tiny waddle of little Fairy Penguin feet?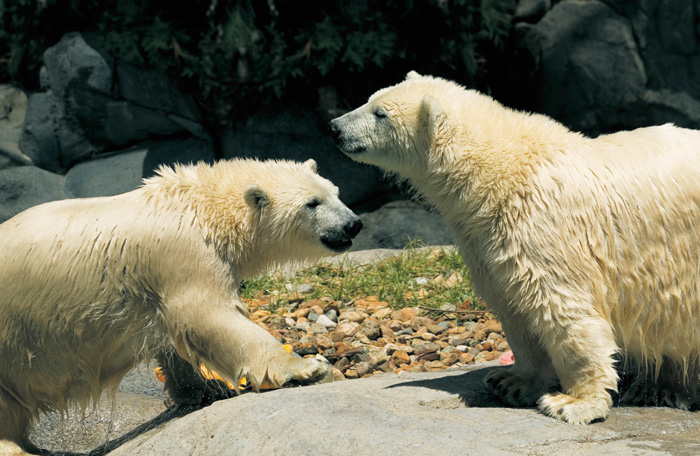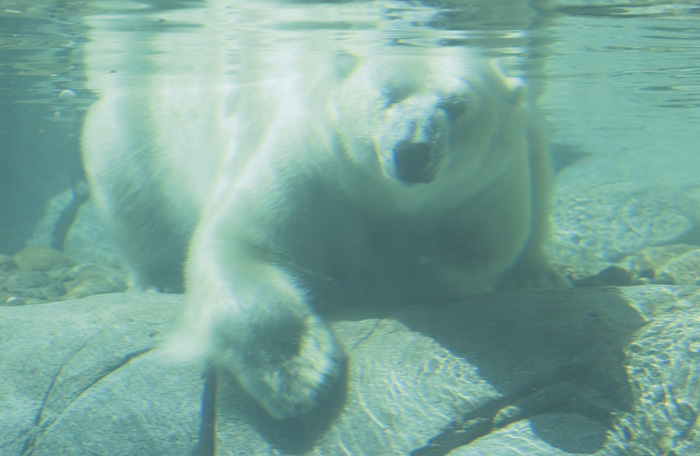 Rays are kind of like the birds of the sea as they fly and glide with such effortless grace underwater. At Ray Reef you can meet over 100 of these amazing animals and some special guests will even get to feed and touch these creatures. Ray Reef also offers guests an educational as well as interactive view into the ways of these wonderful creatures.
Seal Harbour is home to a variety of rescued animals and boasts a naturalistic play area amongst expansive lagoons, all providing the perfect place for the seals to play and sun themselves. See a mixture of Australian Sea Lions and Californian Sea Lions as they swim and splash around the boardwalk.

For something a little different, stroll through the Sea Jellies Illuminated exhibit to experience a variety of sea jellies in a colourful neon backdrop. 
Sea World Rehabilitation & Marine Conservation Centre 
Sea World's Dolphin Nursery Pool gives visitors the chance to see the baby dolphins as they grow up in their marine environment. It's a wonderful playground for these young dolphins to learn and be guided by their mothers. It's nature at its best. Rescue Point Lighthouse offers guests displays and highlights all the wonderful things the Sea World Research and Rescue Foundation have achieved.
The Sea World Rehabilitation Aviary is a place where sea birds can go to undergo treatment and rehabilitation. The aim is to release these birds into the wild but many of the birds will never be able to due to their severe disabilities. Living in the Aviary and around Sea World are many pelicans who have begun to use the space as their breeding ground.
Exciting Rides at Sea World
The brand new Leviathan is here, towering above The New Atlantis precinct! If you're looking for maximum thrills, take on the Leviathan's 909-metre track at speeds of up to 80km per hour. You can even ride this beast backwards for those who dare!

The Jet Rescue coaster is not for the faint at heart. Jump on board your own Jetski and fly around this rollercoaster track. You'll be twisting and winding but also joining the Jet Rescue team on a mission to save a sea lion. To do this you'll have to explode through the cave to release him back into the wild and to safety. 

Sea World's tallest ride is the new Trident! Spin freely 42 metres above the realm of The New Atlantis and enjoy spectacular views of the Broadwater. If that wasn't enough, get a taste of the colossal currents of the Vortex as it spins, twists and turns at dizzying high speeds!

Come visit the colourful world of Nickelodeon Land at Sea World. There are rides for both young and old like Dora's Fiesta Carousel, Bikini Bottom Crosstown Express, Donatello's Ninja Flyers, Patrick's Jellyfish Frenzy, SpongeBob's Boating School Blast and Boots' Banana Boogie! You also get to meet all your favourite friends like Chase and Marshall from PAW Patrol, the Teenage Mutant Ninja Turtles, Dora the Explorer, SpongeBob Squarepants and more. Each day you'll get to see the exciting Turtle Power Live or PAW Patrol on Holiday stage shows.
The Storm Coaster is a thrill ride for the whole family as it takes guests hopping on board a boat and taking a 460-metre floating ride. Along the way, you'll take a steep climb to the top of the Castle before you come crashing down in a big splash. This is a great ride but remember you might get a little bit wet along the way!
Castaway Bay is an interactive adventure zone that is full of fun for the whole family. The area is child-friendly and has wonderful themed rides like Battle Boats which fires off over 80 water cannons and the Sky Fortress which will see the kids play like monkeys as they manoeuvre the rope bridges.
The Sea World Resort Water Park is a great place to cool off during your day at Sea World. The park is connected to the resort and covers a total of 1.6 hectares. The park is free to hotel guests however Sea World visitors must upgrade their daily pass for a small fee.
This means that you can ride on the water slide, swim in the pool, paddle in the shallows and play amongst the water fountains. You can just hang out and laze by the pool as well. There are Cabanas for hire which offer shaded space, lounge chairs and towels.

Note: Due to the extreme nature of some of the rides there are height restrictions. There are also restrictions for those suffering from certain medical conditions. Please be sure to check the signage at the start of the ride to see if you can enter the ride.
Marine, Stunt & Information Shows
The long-standing Thunder Lake Stunt Show offers guests a live stunt experience full of amazing stunts and acrobatics. It will keep the whole family on the edge of their seats.
Affinity is a captivating new interactive Dolphin Presentation operating out of Dolphin Cove. These lovable marine mammals will practically dance to music for you while they jump, swim and soar. These wonderful creatures add a sense of magic to the show as they interact with their trainers. The show is both exciting and educational and will have you smiling for hours after.

The Seal Guardians Presentation takes you behind the scenes with Sea World's talented marine mammal specialists as they introduce their cheeky seals. See their awesome dance moves and unique voices! It's a hilarious stage show that is shown twice daily. If you play your cards right you might just get a kiss from one of the seal lions.

Nickelodeon joins up with Sea World with two high-energy stage shows! First, join PAW Patrol's Chase and Marshall on holiday where you get to become an honorary member and do the Pup Pup Boogie! Afterwards, the Teenage Mutant Ninja Turtles Turtle Power stage show is jam-packed with adventure as you help the Turtles and April take on the evil Foot!
---
Sea World's Animal Encounters
Sea World Animal Adventures gives guests the one-in-a-lifetime opportunity to join Sea World's trainers and get VERY up close and personal with the Park's amazing creatures in a deep water encounter. Places in these programs are limited and there are age restrictions in place so make sure you understand all the terms and conditions before booking your Animal Adventure.

Penguin Encounter takes you onto the ice where you'll get to join the Penguin Keepers in feeding the penguins and leading them in a fun enrichment program. For 45 minutes you'll be transported to the Antarctic with these King and Gentoo penguins which are some of the most majestic in the animal kingdom. You'll also get to take a photo with these amazing animals.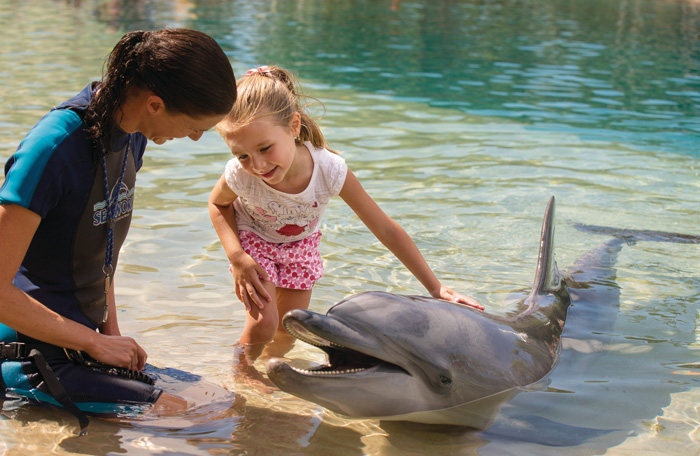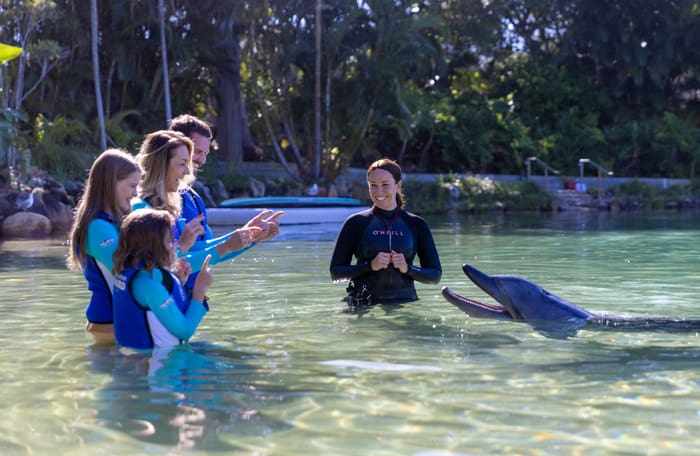 Tropical Reef Snorkel Adventure is one of the cheaper options on the menu but that does not mean it isn't wonderful fun. Take a dive in the tropical reef which stays a balmy 26 degrees all year round. Here you'll encounter tropical fish, rays and harmless Leopard and White-tip reef sharks. You'll even be able to view the Shark Lagoon from a safe distance.
In the Shark Bay Discovery, you'll join a qualified Shark Bay diver for an amazing adventure down into Shark Bay's Reef Lagoon. It's just like being in a real natural environment that is full of white-tip and black-tip reef sharks, tropical fish and stingrays. While down below you'll follow an education trail and take you close to see the larger sharks in Shark Lagoon.
Shark Encounter is for daredevil's out there as you join a qualified Shark Bay diver into Shark Bay for a feeding session. Down below the water, you'll come face to face with these potentially dangerous (and scary) creatures.
Do you like the idea of getting close to the sharks of Shark Lagoon but don't want to swim with them? Hop aboard the Glass Bottom Boat experience and putt all over the Shark Lagoon where you'll see the amazing and dangerous Dusky whaler, Bronze Whaler and an array of open water fish and the interesting Shovelnose Ray.
The Adult Dolphin Aqua Adventure Program gives guests the magical experience of meeting some of Sea World's dolphins. The adventure is a unique experience as it is based on the guests, trainers and animals themselves. Join the dolphins in the deep waters, have your photo taken with them and learn about these wonderful mammals.
There is also the Child Dolphin Aqua Adventure program which lets kids aged 5 - 13 enjoy a shallow water or submersed platform encounter with a dolphin. You can even have the whole family join in on the Dolphin Family Adventure Program which will let you experience this encounter with the whole family and even get a family portrait taken as a fantastic souvenir.
One of the land-based animal adventures is the Seal Encounter, where you'll get to interact with Sea World's adorable species of seals. You won't be getting in the water with these huge creatures but you will get very close and hands-on with these funny, furry friends which may include Long-Nosed Fur Seals. You'll leave with your photo and memories which will last a lifetime. The Seal Aqua Adventure program gets you in the water with these playful seals. They may look pretty clumsy on land but in the water, they'll show you their amazing underwater skills.
Sea World offers guests the experience of a lifetime as guests can go behind the scenes at Polar Bear Shores where you'll have a close encounter with these huge and intelligent land carnivores. The journey is led by an experienced guide and gives you a great insight into the world of Polar Bears and the hardships they face when their ecosystems become under attack.
Heli Tours & Other Attractions & Activities
Embark on an exhilarating adventure with Gold Coast Coastal helicopter tours offered by Sea World Helicopters. Whether you're enjoying a day at Sea World or exploring the area outside the park, Sea World Helicopters can arrange a charter flight for you. Step aboard their luxury Airbus Helicopter and prepare to be amazed as you soar high above the Gold Coast and its stunning hinterland. This Coastal City Experience tour, priced at AUD $145.00, offers a total journey time of 25 minutes (including on-ground time), with a thrilling flight time of approx. 10 minutes.
Throughout the experience time, feast your eyes on breathtaking views of the cityscape, the glistening Broadwater, the picturesque hinterland, and the iconic Q1 Hotel and Jewel Gold Coast. Capture these incredible moments with your own DSLR, tablet, or phone camera, as photography and video recording are permitted on board. Rest assured knowing that you are in the hands of highly experienced and trained pilots, ensuring your safety throughout the tour. Sea World Helicopters operates from Australia's largest privately-owned heliport, featuring a state-of-the-art terminal for your convenience.
For additional safety, they exclusively use turbine helicopters. Furthermore, there is no minimum age requirement to enjoy the tour, allowing the whole family to join in on the excitement. However, it's important to note that guests weighing over 110 kilograms may be subject to a Comfort Seat purchase. For individuals weighing 125 kilograms or more, the purchase of an adjacent, empty comfort seat is required to maintain the helicopter's balance.
Don't miss the opportunity to create lasting memories and bring home the magic of your flight by opting for the $35 recording option, enabling you to relive the experience whenever you desire.
There are four helicopter adventure rides to choose from:
Sea World Scenic Tour - Duration 5 minutes
Surfers Paradise Scenic Tour - Duration 10 minutes
Burleigh Heads Scenic Tour - Duration 15 minutes
Currumbin Valley Scenic Tour - Duration 20 minutes
Tweed Coast Scenic Tour - Duration 30 minutes
Book Your Sea World Helicopter Flight!
Whale Watching Tour
Join Sea World's Whale Watching Tour which runs from late May till November as hundreds of Humpback Whales migrate to the warmer waters of North Queensland to give birth. Sea World gives you the opportunity to climb on board a whale-friendly vessel that will take you out to view these magnificent creatures. Watch these huge mammals frolic in the ocean and get a glimpse of other sea life like Bottlenose and Common dolphins, huge pelicans and estuarine birds.

There's plenty of deck space and viewing platforms so you won't miss a thing! On the boat is a 3D animation presentation that will take you into the wonderful world of whales. The tours operate between late May through to early November during the Whale Watching Season.

Sea World Cruises also operates during Summer and takes passengers out on a fantastic day cruise around the Gold Coast's wonderful waters. 

Book A Sea World Whale Watching Tour Here!
Dining Options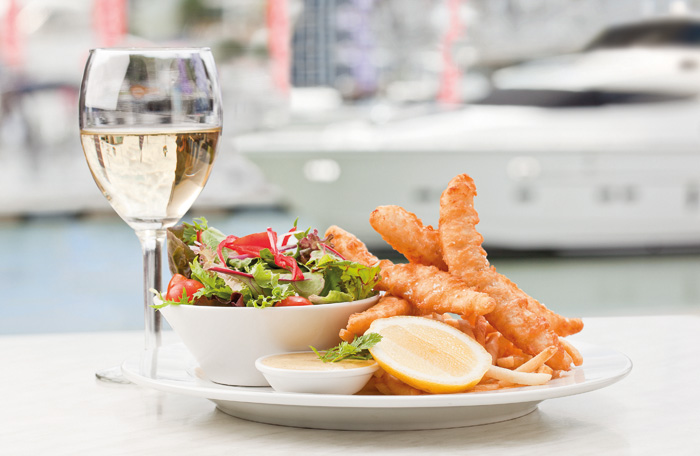 Sea World makes sure its guests are fed well with a variety of dining options all over the park. There are also a number of refreshment stands along the way to cool you down with ice cream, frozen beverages, popcorn and more. The Dockside Bistro and Rooftop Bar gives you the chance to watch the dolphins play or keep an eye on the kids at Nickelodeon Land while enjoying a delicious bistro lunch and a nice cold beer.

Top Terrace Food Court is located at the start of the Park and there's a range of delicious fast food and healthy options to keep your energy up all day long. Centrally located is the Plaza Food Court which also offers great hamburgers, healthy rolls, milkshakes, coffee and even Theme Park favourites like hot dogs, fresh popcorn, churros and snow cones.

The Pizza Shack is a favourite with a few different flavours to suit everyone. Sweet Treats is a favourite with the kids and anyone with a sweet tooth with fresh doughnuts, cupcakes, Spider Funnel cake or the famous Tornado Sundae.
Buy Sea World Tickets Online & Save!
So, you're convinced that a visit to Sea World can't be missed on your visit to the Gold Coast. Great!
Now you get to save on admission prices! It's cheaper to buy Sea World tickets online instead of at the gate. You can purchase single-day Sea World theme park entry tickets, but if you like savings (like most of us), you may be interested in the multi-day passes which also get you full day entry to Warner Bros. Movie World and Wet n Wild!
You can also grab an annual pass for 12 months entry to four theme parks - come and go as often as you like to Sea World, Warner Bros. Movie World, Wet n Wild and Paradise Country! Take on the thrill rides, get photos with your favourite characters, enjoy delicious food and see marine animals as often as you like over 12 months.
Get Your Sea World Passes Online!
Additional Info for Visitors:
Operating Hours
Gates open at 9:30 am and close at 5 pm, and most attractions open from 10 am. Check the website or app though as these times can change during peak and off-peak seasons. 
Sea World is open year-round except for Christmas Day (25 December). On Anzac Day (25 April), Sea World opens later in the day at 1:30 pm.
Also, certain rides and attractions will not operate during inclement weather conditions. It's also a good idea to check the maintenance schedule to see if any rides or attractions will be closed during your visit.
How To Get There
Sea World is located at:
Seaworld Drive, Main Beach QLD 4217.
Get directions here. 
Driving Directions:
As you drive down Seaworld Drive, continue past Marina Mirage, Palazzo Versace and Sheraton and straight through the first roundabout. At the second roundabout, take the first exit (turn left) and you will enter the Sea World Carpark. 
Public Transport:
There are numerous public buses arriving and departing Sea World regularly. Check the Translink website for current timetables.
Children
Sea World is extremely child-friendly and as such has great facilities to cater to their needs. Parent rooms can be found in two locations, and there are a number of attractions, rides and food options that suit smaller children. 
Can I Bring Food?
Unfortunately, you can't bring in food and drink including eskies and coolers, though there are some exceptions such as guests with allergies, infants and babies, and pre-booked education groups. You are also permitted to bring your own water and fruit. 
Accessibility 
Sea World aims to provide a fun day for all regardless of any disabilities. You are encouraged to contact Guest Services on +61 7 5588 2178 or visit Guest Services upon arrival for assistance. Complimentary wheelchair hire is available though bookings are recommended. The theme park also has accessible parking, and toilets, and offers discounted admission upon presentation of a Disability Pension Card. 
Restrictions
There are height restrictions on most rides, with some of the rides designed for younger children also requiring the presence of a responsible guardian. You can view the full list of ride restrictions here.
Images courtesy Tourism & Events Queensland, Tourism Australia, Destination Gold Coast & Getty Images