For the latest information on COVID-19 travel restrictions in Queensland, click here.
Movie World
Hollywood on the Gold Coast
Stroll down the Main Street of Warner Bros. Movie World in true star style and you will discover why they call it Hollywood on the Gold Coast. Hop on board one of the major thrill rides, wander through the Looney Tunes Village and see the exciting stage shows and meet your favourite characters, including Bugs Bunny.
The range of eats at this park will suit everyone with restaurants galore and concession stands dotted around the park selling cool drinks, popcorn and delicious churros. Also around the park are several park retail outlets and souvenir stores so you can pick up a lasting memory of your time at Movie World.
The park is open 363 days of the year and gates to the world-class rides and awesome attractions open from 9.30am until 5.30pm so you can get the most out of your visit.
Buy Movie World tickets online & save!
Save stacks on admission prices and purchase your Movie World tickets in advance for seamless entry. There is a range of theme park passes on offer that provide incredible value with unlimited day entry to three theme parks (Movie World, Sea World and Wet n Wild) as often as you like within the set period. These are usually cheaper or the same price as one-day admission to a single theme park! Plus, for a limited time, get a FREE bonus entry to a 4th theme park - Paradise Country(valued at up to $49 per ticket).
See more of the Gold Coast's theme parks during your stay. Get a multi-park pass with multiple entry options, including 12 months unlimited entry!
Biggest Collection Thrill Rides in Australia
Prepare to embark on a thrilling adventure as you explore our extraordinary collection of rides. From pulse-pounding roller coasters to family-friendly attractions, there's something for everyone to enjoy. And for our younger guests, we have an enchanting array of kids rides that will ignite their imagination and create unforgettable memories. 

Virtual insanity has made its way to Movie World with the launch of the world's first Arkham Asylum ride. On this multi-dimensional journey, you'll feel twists and turns with onboard audio as you fight one of the most infamous villains on the planet, The Joker. This roller coaster ride costs an extra $5 and tickets are available at the park.

The Batwing Spaceshot is named after the famed superhero, Batman and is one of the newer thrill rides to hit Warner Bros. Movie World. The ride will not fail to get your adrenaline pumping as it shoots you up a 60-metre tower at an express rate. Sit almost floating in the air for a few mere seconds and then plummet into a jaw-dropping freefall.

It's Superman to the rescue of adrenaline junkies with the new Superman Escape rollercoaster epic ride which launches from 0 - 100 kilometres in only 2 seconds. Begin your journey at the Metropolis subway loading dock, wind your way through the subway and endure petrifying earthquakes.

Then there's the Green Lantern Coaster - bringing you the steepest inverted drop on a rollercoaster in Australia! The gut-wrenching, heart-pounding, blood-curdling and absolute fear-inducing coaster features a 120-degree inverted drop and hits speeds of up to 66km/h.

Scooby-Doo where are you? The Scooby-Doo Spooky Coaster is like a ghost train on steroids. This family-friendly indoor rollercoaster takes you on one of the creepiest and spine-tingling rides ever created. Enter the darkened and eerie courtyard of the Spooky Castle and jump on board one of the coaster cars. Travel through the castle past ghouls, gargoyles, scary sounds and special effects and uncanny dimension trickery. The ride will keep the hairs standing on the back of your neck for days. The ride was created to coincide with the filming of the Scooby-Doo movie which was shot at the Warner Roadshow Movie World Studios on the Gold Coast.

The Wild West Falls Adventure Ride is Australia's wildest adventure and is a 6-minute-long journey into the heart of the Wild West. The ride takes you past an Indian reservation, through ghost towns, geysers and wagon trains. The state-of-the-art technology and surroundings will have you believing you are a real cowboy or cowgirl in the wild, wild West. Then course into the centre of a gold mining mountain to where a shaft is about to explode. You've got to keep your wits about you as the only way out of the shaft is to escape down a 20-metre drop into the ultimate splashdown. It's a Yee-Ha Raw Hide adventure that is sure to please everyone in the family.

Visit the world's first theme park area dedicated to DC Super-Villains and the Doomsday Destroyer which is a gut-churning looping ride that will take you where no superhero dares to go! You will not be disappointed jumping onboard one of these world-class adventure rides. 

Note: Due to the extreme nature of some of the rides there are height restrictions. This goes both ways those that are too small can't ride but also some people who exceed a certain height can not ride either. There are also restrictions for those suffering from certain medical conditions. Please be sure to check the signage at the start of the ride to see if you can enter the ride.
Kids Fun at Movie World
No matter what your age is, you'll love the fantasy of entering the whimsical cartoon world inside the Kids' WB! Fun Zone. Living inside the colourful Fun Zone are all your favourite Looney Tunes characters, new and old, including Daffy Duck, Bugs Bunny, Tweety, Sylvester, Wile E. Coyote, Porky Pig, Foghorn Leghorn and a stack more characters, perfect for photos and souveniers.

All aboard your transportation pod and get ready to battle as you battle aliens next to Superman and Batman family rides. The Justice League 3D - The Ride takes you an on epic battle to save the people of Earth. All the family will enjoy the Road Runner Rollercoaster as you help Wile E. Coyote chase Road Runner through the ACME Fireworks Factory. The coaster will reach a top speed of 40km/h as you sit back and chase through the Arizona Desert.

Kids will love taking over the driver's seat as they learn to drive and all about seatbelt safety as they travel on the Main Street driving course, at the Junior Driving School.
Movie World Shows & Attractions
Hollywood Stunt Driver 2 plunges you into the action-packed world of a real-life Hollywood action movie set. Here you'll see death-defying stunts, precision driving and action scenes performed by the professional cast and crew.
Visit the Roxy Theatre and sit back and enjoy Looney Tunes 4D starring Road Runner and the ever-resourceful Wile E. Coyote. Your seats tilt and mirror the dramatic events taking playing out on the big screen so people with medical conditions must seek advice.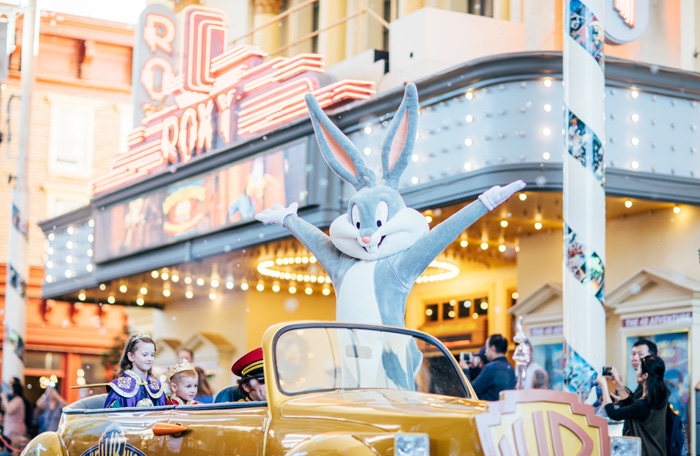 The Main Street Entertainment is one of the parks oldest attractions and rightly so as you come face to face with all of your favourite Stars and Looney Tunes characters. Take your photo with the gang and enjoy all the excitment as movie magic comes to life. 
Your child can practice their royal wave as they take their seat in their very own golden limo as they act out as the Prince & Princess of the Parade. A $30 donation to the Gold Coast Community Fund will ensure your child is a Prince or Princess at the daily Streets Star Parade. 
---
Lunch & Dining Options - Eat like a Movie Star!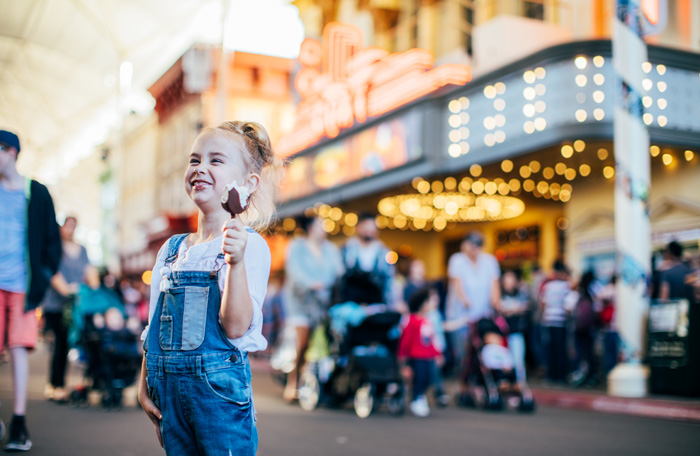 Eating at Warner Bros. Movie World is just as entertaining as the rides and shows. The restaurants and cafes are just like scenes out of your favourite Hollywood movie. There's a huge range of eats to suit all tastes. On the streets you'll find vendors at the Newspaper Stands selling cool drinks and Frozen Coca Colas. There's also concession stands selling Hot Dogs, Dagwood Dogs, Popcorn, Fairy Floss and the highly addictive Spanish treat, Churros.

At the Main Street Deli, you can sit inside and watch the stars of the silver screen or outside and get a great view of 'Hollywood on the Gold Coast's Main Street. Here you'll be treated to gourmet sandwiches served on local artisan bread and filled with smoked in-house pastrami. If you need an espresso hit, visit the Village Bean so you can have a great coffee experience and delicious treat.

Have you got a big appetite? Then Rick's Cafe is the place for you! The cafe taps into the magic of Casablanca with scenes of Bogey and Bergman around the joint. There's an international buffet that sells a selection of hot dishes, pasta, salads and desserts which is all you can eat from 11.30am till 3pm. The Dirty Harry Bar has a variety of bar treats like Nachos and Club Sandwiches as well as selling delicious alcoholic and non-alcoholic cocktails. You can sit back with your drink and watch Clint Eastwood star in his break-out movie.

It wouldn't be a fun day out without having a little something sweet to snack on. Sweet Treats is a mecca for sugar junkies with a range of fresh and frozen treats to delight everybody. There are lots of delicious sundaes, doughnuts galore and old-fashioned milkshakes. There's also the famed QLD pineapple float that is a favourite with park visitors.
Shopping at Movie World - Find Unique Souvenirs
A great way to remember your day at Warner Bros. Movie World is to pick up a piece of memorabilia from one of the fantastic themed stores. There's lots of goodies for you to buy from all your favourite characters. The Superman Escape Store has an amazing selection of Superman merchandise from caped onesies for babies, boxer shorts, key rings, t-shirts, hats and toys for children of all ages. 

At the Movie Memorabilia shop you can pick out a poster, souvenir or original cartoon cel of your favourite classic Hollywood movie. There's even authentic autographed photos of movies and television stars to buy.
Shopping at Movie World - Find Unique Souvenirs
At the Movie Memorabilia shop, you can pick out a poster, souvenir or original cartoon cel of your favourite classic Hollywood movie. There are even authentic autographed photos of movies and television stars to buy.
Visit the Warner Bros. Boutique or the Warner Bros. Department Store to pick up everything and anything you could ever want with a Warner Bros. logo on it. The Kids' WB! Toys and Gifts store has a huge selection of official Looney Tunes gifts, clothes and toys. You can also join in (for an extra fee) and try your luck at the Country Fair Fun'n'Games or the Intencity Fun'n'Games. There are heaps of great games for all ages and winners may even go home with a prize.
Buy Movie World Tickets & Passes!
We hope you're convinced that a visit to the Gold Coast won't be complete without a trip to Warner Bros. Movie World. Take a look at the affordable Movie World ticket options and exclusive offers below and enjoy your day out (or days unlimited access) at Hollywood on the Gold Coast.
Images courtesy Tourism & Events Queensland, Tourism Australia, Destination Gold Coast & Getty Images