For the latest information on COVID-19 travel restrictions in Queensland, click here.
Dreamworld & WhiteWater World
Let your imagination play
Dreamworld is the biggest theme park on the Gold Coast and is home to everyone's favourite rides. With a huge variety of rollercoasters, famous attractions, family thrill rides, unique animal attractions, and the Dreamworld Cinema, the whole family is sure to have a great time on their day of visit. 
At Dreamworld, there is always something extraordinary happening, offering an array of events throughout the year to ensure every visit is a unique and memorable experience, including the Aussie Wildlife Experience and Tiger Island. Be prepared to be captivated, as events like the Park After Dark event, Winterfest, and Happy Halloween add an extra layer of magic and excitement to your Dreamworld adventure.
There's so much to see and do at Dreamworld & WhiteWater World that you might have to come back - getting a Seasonal Pass or a Dreamworld annual pass with unlimited entry is the most affordable way to get the most out of the theme parks. For the cheapest deal, buy your Dreamworld tickets online and beat the gate prices! A day out at Dreamworld is one you'll never forget!
Rides, rides, and more rides
Dreamworld's Big 9 Thrill Rides
Experience the Big 9 Thrill Rides! As Australia's largest theme park, Dreamworld is of course home to some of the tallest, fastest and most action-packed rides in the world with spins, twists, dives, special effects and incredible speeds and heights making for a very fun-filled day for young and old!
Adrenaline junkies will want to test their metal by braving each of the Big 9 thrill rides:
BuzzSaw - Seated in an open carriage, you will be held in a single waist harness with little to cling on to. This white-knuckle ride starts with a suspenseful 46m vertical ascent that will have you instantly wishing you were back on the ground.
The Claw - Sink your talons into some real terror on Dreamworld's latest scream machine. You'll be propelled 9 stories high, swinging up to 75km/h while spinning 360 degrees on this giant Gyro Swing. It will scare you to shreds!
Tail Spin - Prepare for a takeoff like never before - you'll be strapped into one of twelve mini aeroplanes that soar to a whopping 72 feet. Grab the controls for some pumping air tricks or sit back for the scenic ride.
Wipeout - Get ready for five minutes of being spun, twisted and tumbled through a body-wrenching range of dumping breakers. The Wipeout is framed by a giant crashing wave and is the mother of all tidal waves.
Pandamonium - a ride that has a split personality! Thrill seekers will go round and round, side to side and upside down at up to 3.8 G-forces. Soaring 8 metres high under the watchful eyes of the mighty dragon, only true thrill seekers will be able to outlast these 150 seconds of kung-furious pandemonium.
Tower of Terror II - Test the tonsils on one of the fastest coasters in the world. The Tower's electro-magnetically powered 'Escape Pod' accelerates its passengers to a massive 160 kph in seven seconds before it climbs to almost 38 storeys high
The Giant Drop - Listed as the tallest vertical free-fall ride in the world (119 metres) in the Guinness Book of World Records. Plummet back to Earth at terminal speed. It's the closest thing you'll get to jumping out of a plane!
Mick Doohan's Motocoaster - Dreamworld has teamed up with one of the greatest names in motorbike racing history - five-time 500cc World Champion and World Record Holder Mick Doohan - to bring the thrill and exhilaration of motoracing to the masses with Australia's first motorbike rollercoaster.
Hot Wheels SideWinder - One of the tallest, high-speed gravity rollercoasters in the Southern Hemisphere. Speed through a reverse sidewinder and 360-degree loop over 13 stories of revved-up, heart-thumping fun!
There's no other theme park in the country (not even Movie World) with more rides in one spot, each as unique as the next. They each come with their own height, weight and age restrictions, so make sure to refer to the individual signage displayed at each ride.
Adventure lovers need not look further than Dreamworld to get their pulses pumping!
Dreamworld Family Rides
There are the classics like Rocky Hollow Log Ride where you can expect to get splashed here and there (something the kids always love) and the Dreamworld Express which is a great way to take a tour of the Dreamworld Park.

For moderate thrill seekers, check out the Escape from Madagascar rollercoaster and Shockwave which has you plunging and climbing while circling round and round. There's also everybody's favourite Gingerbread Man who now has his own ride, Gingy's Glider and you can test your driving skills on the bumper cars or in one of the vintage cars that take you past the park's Koala family.
Dreamworld Kids Rides 
There are 11 rides dedicated to kids at Dreamworld! Join the Wiggles on a boat or car ride, visit Dorothy's Rosy tea cup ride and stop in at Giggle and Hoot's Pirate Ship. There's a fun maze created by Bananas in Pyjamas and a Puss in Boots Sword Swing. Fly with Dronkeys, spin around on Shrek's Ogre-Go Round and go up and down with Hootabelle.

There are age and minimum height restrictions on the kid's rides. Make sure you check the website to avoid disappointment.
---
Attractions
Dreamworld Corroboree
Celebrate Aboriginal and Torres Strait Islander heritage as you learn the ancient craft of making a campfire, face painting, weapon making, music and art plus hear about the heritage, traditions and old stories of the Indigenous culture. 
Nature lovers can take a walk on the wild side at The Australian Wildlife Experience, home to over 800 native animals and birds. There's crocodile feeding, koala cuddling, Tasmanian Devil experiences and a number of enclosures that are designed to replicate Australian habitats, including the Outback, Daintree Rainforest and Kakadu Wetlands.
Tiger Island
Come face to face with our rare Bengal tiger and Sumatran tigers as they play, wrestle and swim at Tiger Island. For those after real wildlife experiences, go on a walk with these incredible tigers and White Tiger cubs and pat them while you chat with their trainers. And, if you're feeling particularly adventurous, you can hand-feed these beautiful creatures at a cost of only $55 on top of your normal ticket price - only at Dreamworld Gold Coast!
WhiteWater World
Slide in for the ride of your life at the Gold Coast's coolest water park, WhiteWater World! Just a hop, skip and a splash from Dreamworld, combining adrenaline-pumping thrills with family-style fun in the ultimate Aussie beach paradise.
WhiteWater World boasts some of the hottest waterslides on the planet including one of only two LIM-powered rocket coasters in the world and the only eight-lane Octopus Racer in existence. Experience thrill slides The Bro, the Super Tubes HydroCoaster or power slide, The Wedgie. If that's not your thing then splash and play in Wiggle Bay or chill out in a tube at the Cave of Waves.
Ride into the centre of a surfer's universe on Australia's biggest funnel of fun, The Green Room or go head-to-head with your mates on the Little Rippers and see who will be flushed out first.
Food Outlets 
There are a variety of food outlets await to satisfy your cravings. Treat yourself to delicious meals ranging from mouth-watering burgers and tantalizing chicken breast tenders accompanied by your choice of delectable dipping sauces to delectable sweet treats, including ice cream and more. With options to suit every palate, there's something for everyone to enjoy.
If you need a refreshing beverage, explore the range of frozen beverages available. Whether you're craving a fruity slushie or a creamy frozen treat, these icy concoctions are the ideal way to beat the Gold Coast heat while savouring your food adventure at Dreamworld.
Dreamworld Theme Park Details
World Pass - Enjoy Both Theme Parks for Less!
The World Pass is the one ticket you need to get into the best theme parks in one great location! The World Pass lets you hop between Dreamworld & WhiteWater World as often as you like, over 1 or 21 days. Buy a World Pass here.
Operating Hours
Dreamworld is open from 10 am to 5 pm except Christmas Day (25 December) and ANZAC Day. Hours may be extended during school holidays.
WhiteWater World is open from 10 am to 4 pm (minimum) except Christmas Day (25 December) and ANZAC Day. Hours extended during summer.
How To Get There
Dreamworld is located at the northern end of the Gold Coast, on the Pacific Highway (M1) Coomera, 17 kilometres (20 minutes) north of Surfers Paradise and 48 kilometres (40 minutes) south of Brisbane. There are many transport options to Dreamworld, including bus, coach, rail, car and helicopter transfers.
Children
What kind of theme park would it be if it didn't cater to the kids? Dreamworld is suitable for children of all ages, with all appropriate facilities including parent rooms, shaded eating and play areas and strollers for hire. Plus there's Wiggles World and a stack of family-friendly rides.
Disabled Acess
There is access for guests with a disability.
Restrictions
There are height restrictions on major thrill rides. Children under one year are not permitted on any rides. Children under four years must be accompanied by an adult on all suitable rides. See the full list of park guidelines here.
---
SkyPoint Observation Deck & Climb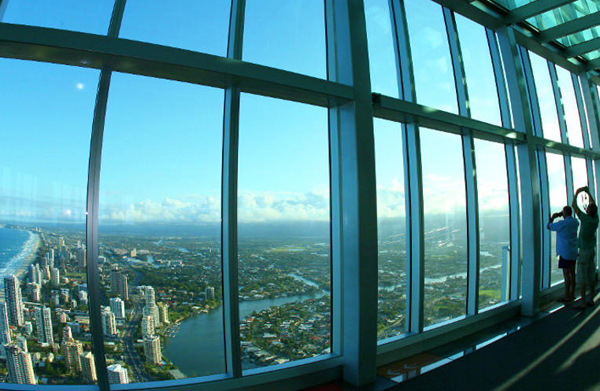 Australia's only beachside observation deck, located in the heart of one of the world's favourite holiday hot spots has been transformed from a room with a view to an exciting and educational tourism experience to showcase the destination. SkyPoint, located in the iconic Q1 Tower, is a must-see for all visitors and the perfect location to start your Gold Coast adventure. Boasting Australia's only beachside observation deck and highest open-air building climb, this unique destination offers spectacular 360-degree views from up to 270m in the air, sumptuous food and drinks, plus an exciting and educational tourism experience.

SkyPoint Observation Deck is a celebration of the Gold Coast's history, culture and tourism treasures. The attraction promotes the lifestyle and the entire spectrum of experiences available on the Gold Coast.

Located 230 metres above the ground, SkyPoint boasts:
One of the fastest elevators in the world taking you from ground to Level 77 in just 42.7 seconds
A mini museum in the sky providing guests with a wealth of facts and information to plan the ultimate Gold Coast adventure
SkyPoint Weather Station presented by the Bureau of Meteorology including a live feed of the local weather radar and interactive weather information
Surf Lifesaving Queensland display, educating guests on official surf and sun safety, reading the flags and providing vital patrol information to guests
SkyPoint theatrette presenting "The Birth of Paradise" - a fifteen-minute rollercoaster ride on our flamboyant and colourful history
Buy Skypoint Observation Deck Tickets
SkyPoint Observation Deck is open from 9 am to 9 pm Sunday to Thursday and 9 am to midnight every Friday and Saturday night.
Images courtesy Tourism & Events Queensland, Tourism Australia, Destination Gold Coast & Getty Images