Live Music on the Gold Coast
Because the Gold Coast is a holiday town, most venues prefer to put on cover bands than take a risk with local original talent, however a few venues do give you the chance to see local, national and international touring bands and artists.
Most taverns and hotels also offer live music after dark and the quality can range from exceptional to unbearable, depending on your point of view. Larger venues such as the Gold Coast Convention & Exhibition Centre and The Star Gold Coast have also been home to some major international acts. The new regular night markets like Miami Marketta and NightQuarter also regularly feature live acts, giving punters a relaxed atmosphere to catch some good tunes. 
There is a good local live music scene on the Gold Coast, with a plethora of metal bands, punk outfits, roots artists, hip hop and a splattering of funk and soul. If you really want to see some good live music your best bet would be to pick up the local street press from a music or record store and see what's happening. You won't be disappointed.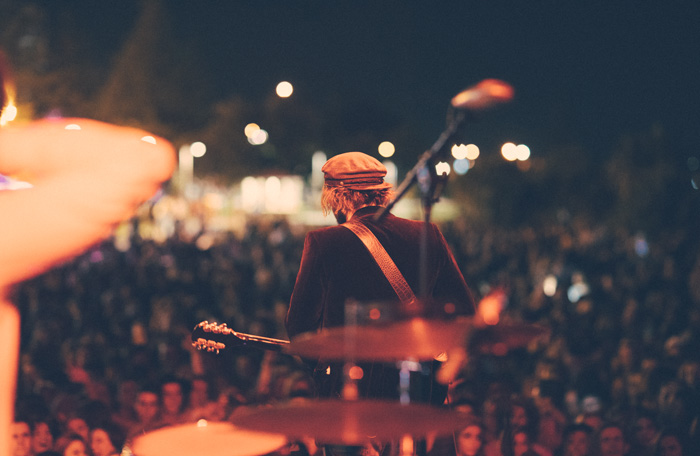 Live Music Venues on the Gold Coast
Surfers Paradise Beergarden
Recently revamped with a cutting edge sound and lighting system the Surfers Paradise Beergarden has live bands performing every Thursday through Sunday. Regarded as the home of live music on the Gold Coast the Beergarden follows a proud tradition of supporting loud and local Australian and international acts.
The Broadbeach Tavern
Situated in the heart of Broadbeach and providing live bands every Thursday to Sunday night, the Broadbeach Tavern caters for all music tastes. With great food and drinks on offer the tavern provides a great atmosphere of fun and excitement.
Coolangatta Sands Hotel
Coolangatta Sands provides free live music every Friday and Sunday night with a Piano bar on Saturday nights. Come in for a meal, a drink or just the live music amid a crowd of locals and backpackers.
The Coolangatta Hotel
The Coolangatta Hotel hosts live entertainment weekly and can cope with a crowd of 1000 in their 'Cooly Bandroom'. Situated on the Coolangatta beachfront the Cooly is close to public transport and beach views.
Elsewhere Bar
Elsewhere Bar has a philosophy of creating an intimate, stylish venue to support the entertainment arts, promoting great alternative live music. They've done just that, regularly hosting world class performers such as Faker and Steve Aoki.
Hard Rock Cafe
You can't think of Hard Rock and not think of great live music. Located in the heart of the Gold Coast tourists and locals all know they can get live music and amazing food up those stairs.
Corner Cavill Ave and Surfers Paradise Blvd, Surfers Paradise QLD 4217
Web: www.hardrock.com
---
The Loft
Just out of earshot of the mayhem of Surfers Paradise is a venue full of European character. The Loft is a quaint little chalet inspired bar serving French style tapas and live music every Thursday and Friday night. Be prepared; the Friday night show is not for the faint hearted as it presents some of the most adventurous music by up and coming Australian touring acts.
Miami Shark Bar
Hosting a barbeque, bikini girls and live bands every Friday, Saturday and Sunday nights the Miami Shark Bar is an ideal live music venue for young people on the Gold Coast. Catering all genres of live music there's something for everyone.
SoundLounge (Currumbin RSL)
Recently refurbished, the SoundLounge is one of the Gold Coast's premier live music venues for original local, home grown and international artists. With modern production, excellent room acoustics and numerous capacity and seating options the SoundLounge is one venue not to be missed. Most events are held on a Friday, Saturday or Sunday night. View their website for details and ticket purchases!
The Wallaby Hotel
One of the oldest classic Queensland hotels in the Gold Coast area is also home to some of the best live music on offer. Regularly featuring 80s themed nights, Bon Jovi tribute bands and a range of other performers keep locals and tourists alike piling into The Wallaby Hotel.
Miami Marketta
Every Friday and Saturday night (and to a lesser extent Wednesday) the Miami industrial area comes to life with Miami Marketta - grab a bite to eat from one of the amazing food stalls, visit the bar and catch one of their live acts. The bands are only on the Friday and Saturday nights and cover a pretty broad range of genres so make sure to check out the gig guide on their website. 
NightQuarter
Definitely one of the Gold Coast's best night's out, The Paddock stage at NightQuarter has played host to a number of international and national acts and is a great place to go for a bite to eat with a difference. 
Gold Coast Gig Guides
LiveGuide.com.au - Australia's #1 nightlife guide. Info on over 3500 gigs, nightclubs, theatre and arts events nationally.
GCBands - The Gold Coast Music Scene - a comprehensive Gold Coast gig guide, you will definitely find a live music venue or event on this site.
Images courtesy Tourism & Events Queensland, Tourism Australia, Destination Gold Coast & Getty Images