For the latest information on COVID-19 travel restrictions in Queensland, click here.
The Best Beaches
On The Gold Coast
With around 70km of beaches it would be a little sad if you just stuck to Surfers Paradise for your entire beach holiday. With all that sand you can just imagine that every local has their favourite bit of sand to throw their towel on for some reason or another.
There's a huge list of Gold Coast beaches and they are all pretty great for different reasons. Some are particularly good for family outings and others for die hard surfers. Some beaches are preferred for their close proximity to good Surf Clubs with their cheap meals, cool drinks and the safety of the Surf Life Savers.
As locals we've compiled a list of the best Gold Coast beaches along with all the reasons why you might prefer them.
Best Family Beaches
Budds Beach
Nestled on the Nerang River and less than a 5 minute walk from the hubbub of Surfers Paradise is Budds Beach, one of those places that tourists never really get to see. It's a quiet, peaceful corner of Surfers Paradise where kids play on the beach, boats slowly cruise up and down the river and people go on with their lives in the houses on Chevron Island.
Burleigh Heads
Voted as Gold Coast's best beach, Burleigh Heads is a clean, patrolled sandy beach that is popular for both families and surfers. Only a short drive from Burleigh CBD, the beach itself has plenty of facilities that are only a short walk away, easy parking and kid's play equipment that makes it a family favourite.
Rainbow Bay
Rainbow Bay in Coolangatta is one of those great Gold Coast beaches that has something for everyone. The stretch of patrolled beach is long enough that long borders, surfers and swimmers can each have their own patch of beach. There is even a shallow gutter just off the beach that provides a calm patch for kids to have a dump free paddle.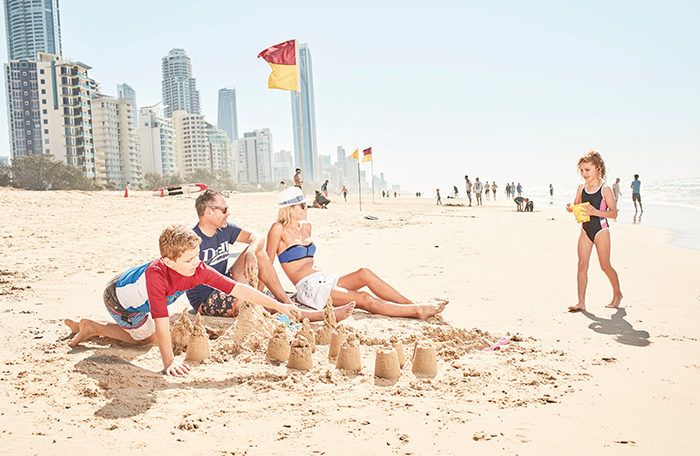 ---
Greenmount Beach
Still in Coolangatta and just around the corner from Rainbow Bay is the gentle surf of Greenmount Beach. The calm waters are great for young kids still learning to swim and adults that simple want a gentle laze in the sea.
Main Beach
With a long stretch of soft, white sand and a smooth surf break, Main Beach is ideal for swimming and spreading out to lay in the sun. There is loads of room to kick a ball around and all necessary amenities to provide for a great, hassle-free family day at the beach.
Currumbin Beach
Currumbin Beach is an uncrowded, patrolled beach with gentle surf and rock pools that are great for young families. The Surf Club and nearby cafes of Currumbin offer an easy meal or drink after a day out in the sun.
Broadwater
Broadwater is not really a beach so much as it is a stretch of tidal water. Stretching from Southport to The Spit, Broadwater is popular for its lack of intimidating waves and attracts plenty of swimmers, kayakers and jetski riders.
Looking for family-friendly accommodation? View our top choices and book online!
Best Surf Beaches
Point Breaks
Snapper Rocks
One of the most famous surf breaks, Snapper Rocks is a consistent point break that can provide up to a kilometre long ride if you can pull the right wave. The break is accessed quickly by (carefully) paddling out from the rocks or by paddling through the breakers of the beach. Nearby is Rainbow Bay Surf Club.
Duranbah Beach
The break at Duranbah is known for working in most conditions and providing quite large swells. The beach itself isn't much to speak of which makes it the perfect surfer's/body boarder's beach. Just take care as this beach isn't patrolled.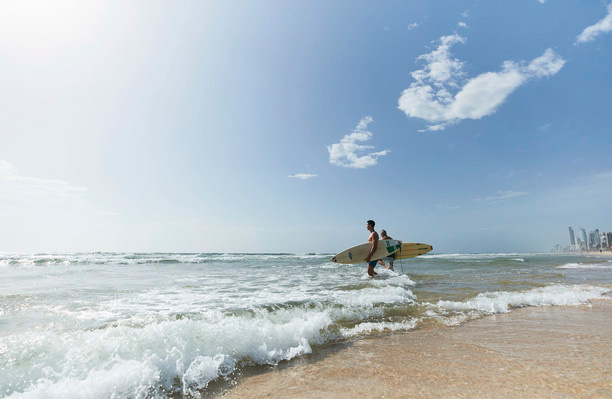 ---
Kirra
A surfing hotspot, Kirra challenges the most experienced surfer out at the break while catering to beginners closer to shore. The waves are fast and sharp and work well with southerly and south-easterly winds.
Currumbin Alley
Currumbin Alley is popular for its point break that is easily accessed from the beach. Producing an easy right-hander off Currumbin Rock, the alley is frequented by long boarders, paddle boarders and those learning to surf.
Burleigh Heads
Burleigh heads can provide some great barrels and is good with most winds, excluding northerlies. Short, long and paddle boarders alike make the most of this break, some making the short-cut by navigating the rocks from Burleigh Headland.
South Stradbroke
Just a paddle across the seaway (watching for boats) and a clamber across the rocks will bring you to the point break off from South Stradbroke Island. Usually has good waves and almost never any crowds.
Planning a surfing holiday? View accommodation in Coolangatta and stay within walking distance of the best surfing hot spots on the Coast.
Beach Breaks
There are some great beach breaks all along the coast. Choice spots include The Spit, Main Beach, Narrowneck, Palm Beach and Mermaid Beach. At times these can carry some awesome waves especially when there are cyclones about.

For the rest of the time they offer reasonable waves without the crowds that are usually at the point breaks. It's a Boogie Boarder's paradise but get in early before the wind gets up.

Kite surfing or paragliding is also big at Narrowneck and also the Broadwater.
Best Looking Beaches
Rainbow Bay
With plenty of white sand, sheltered swimming in clear waters and coastal walks Rainbow Bay is a great beach for photographers, artists and those looking for a scenic walk. Take the boardwalk up to Point Danger where a viewing platform offers a magnificent panorama all along the coast.
Burleigh Heads
The curve of the beach at Burleigh makes for great beach views with the Gold Coast city skyline as a backdrop. Parklands run all along the foreshore with walking paths and viewing platforms.
The Spit
Popular for picnics and romantic walks along the shore, The Spit is a calm, quiet escape from the more busy Gold Coast beaches.
Images courtesy Tourism & Events Queensland, Tourism Australia, Destination Gold Coast & Getty Images