For the latest information on COVID-19 travel restrictions in Queensland, click here.
Paradise Country
Authentic Aussie Farm Experience
Paradise Country is an authentic Aussie homestead where visitors can experience true blue farm life and get a taste for the Australian outback. Enjoy a relaxing meal at the Farm House or roll out the picnic rug for a picnic on the hill. You can wake up to the call of the kookaburra and the bleating of sheep when you choose to stay on the farm in one of the onsite offerings. This experience is perfect for young and old as you immerse yourself into the Australian lifestyle.  
Animals At The Farm
Take a stroll through the Australian wildlife enclosures where you can hand feed kangaroos and emus and spy on sleepy koalas. There's an abundance of bird life like lorikeets and cockatoos and don't forget to take a peak at the dingo enclosure to see one of these hunters in the flesh. Available on Saturday and Sunday mornings, you can even enjoy breakfast in the koala nursery. Get up close and personal with these iconic animals and make sure you have a cuddle whilst having your photo taken. Book your Paradise Country Breakfast With Koalas ticket here. 

The Animal Nursery is not to be missed as you "oooh" and "ahhh" over the cutest baby animals. Visit at feeding time and you'll hear the squeals of excitement as a number of piglets, lambs, kids, chicks and alpacas line up for lunch. Out in the Animal Walkthrough you can wander with sheep, goats and chickens. Just keep an eye on your bag as the resident goats can be a bit cheeky! 

Down in the Aussie Farmyard you'll come across the same animals that you would see on many real working farms. Cattle dogs, cows, horses, sheep and chickens all call the Farmyard home.
Shows At The Farm
Throughout the day there are a number of shows and experiences that will keep the whole family happy.

Visit the shearing shed and watch the Sheep Shearing & Ram Parade, here you'll see master shearers work their clippers and learn about wool production in Australia.

Next, visit the Stockman & Sheep Dog show as they demonstrate the bond between farmer and cattledog as they work together to round up a flock of sheep.

It's here you'll learn how to milk a cow, how to crack a whip and be shown how to throw a boomerang. Finish your day around the campfire and enjoy an authentic Billy Tea and damper as you watch all the action of the Australian Stock Horse show. This is not to be missed
Farmstay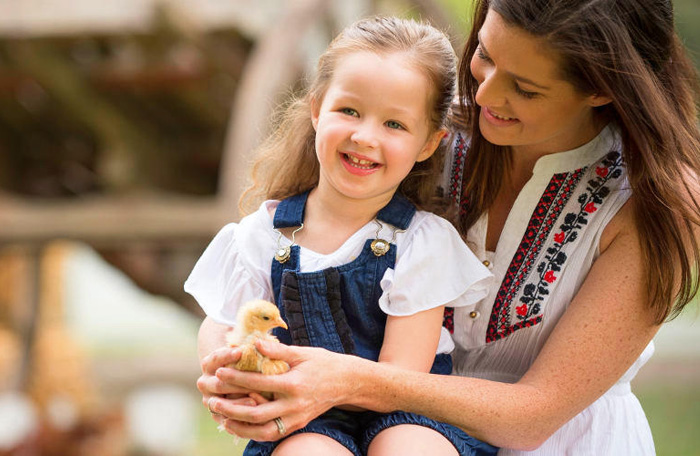 Wake up to the smell of clean bush air and the sounds of the farm as all of the animals begin to wake up for the day. Collect eggs, feed the animals and get a front row seat for cow milking when you take part in the Sunrise Farm Acitivities. In the evening there's a nightly campfire to keep you cosy and lots of accommodation options to choose from. You'll find luxurious Eco Tents, Swagman Motorhomes, Caravans, Tents and there's even powered sites if you've already for your own accommodation. 
Food At The Farm
You'll work up an appetite as you walk around the farm and at Paradise Country you've got plenty of delicious options. Try the Farmhouse Restaurant which has a range of fresh salads, meat dishes and a huge buffet served daily. You can also pick up a few things at the deli counter so that you can spread out on the hill while you dine on baguettes, treats and fruit. There's also a cellar door so you can steph inside and sample a range of local wines. 
Contact Information
Phone: 13 33 86
Address: Production Drive, Oxenford Qld 4210

Images courtesy Tourism & Events Queensland, Tourism Australia, Destination Gold Coast & Getty Images